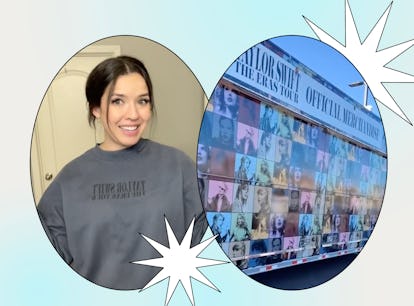 A Guide To The Taylor Swift Eras Tour Merch Truck & Avoiding Lines
Here's how to get your hands on Midnights (The Late Night Edition).
We may receive a portion of sales if you purchase a product through a link in this article.
"Look what you made me do" has a whole new meaning now that Swifties have entered The Eras Tour era. In addition to bedazzling concert 'fits and DIYing friendship bracelets, fans are also spending hours waiting in line to get their hands on Taylor Swift Eras Tour merch. Of course, factoring in an additional 20 minutes before your show to snag a tee or poster is nothing new. However, some fans are saying they've had to wait almost 11 hours for the Eras Tour merch truck. That's way longer than Swift's entire 44-song setlist.
Since there is merch available online, you might be wondering why Swifties are wasting their time. TikToker @miamurph.y shared that she waited several hours in Las Vegas, due to the show-exclusive items that you can only get at the stadium. These are the items fans are dying to add to their collection, and the problem is once an item sells out, they are not restocking, according to TikToker @jizellemaia.
One show-exclusive Eras merch find that Swifties really want is the Eras Tour blue crewneck. This viral Eras sweatshirt has become so popular that resellers are now listing it for over $400 online. Now with the announcement of Swift's Midnights (The Late Night Edition), Swifties will be wanting to get to the venue early to pick up a physical copy of this ticket-exclusive CD. After everything fans have already had to deal with just trying to get tickets to The Eras Tour, there should be no bad blood getting merch. To avoid your day going down in flames, here's how to make the most of your time at The Eras Tour and figure out which merch items are actually worth waiting for.
When Does The Taylor Swift Eras Tour Merch Truck Open?
"Take advantage of early merch" is one of @jizellemaia's top tips for the Eras Tour, as everything is only available while supplies last. Times may vary from city to city, so your best bet is to keep an eye on Twitter or your stadium's website for any updates. For example, the merch truck opened a day before the first show in Las Vegas at 10 a.m., which means you might need to plan on going before your show if you want the best chance of getting the most popular items. Meanwhile, for the Glendale shows in Arizona, the Taylor Swift Eras Tour merch truck opened the day of the show.
The Eras Tour merch truck is parked outside of the venue, meaning you don't need a ticket to The Eras Tour in order to get merch. While some of the merch will also be available inside the venue for ticket holders the day of the show, not every booth will have what you're looking for. I attended the second show in Las Vegas, and the merch table I went to inside the stadium wasn't carrying the blue crewneck or even the show poster that's exclusive to each city.
What Are The Taylor Swift Eras Tour Merch Truck Prices?
Before going to the Eras Tour merch truck, here is a breakdown of the prices to see if it's in your budget:
Hoodies — $75
Crewneck — $65
Quarter Zip Pullover — $65
Long Sleeve T-Shirt — $55
T-Shirts — $45
Tank — $40
Canvas Tapestry — $35
Bracelet — $35
Show Poster — $30
Tote Bag — $30
Water Bottle — $25
Glow Baton — $15
What Taylor Swift Eras Tour Tour Merch Is Worth It?
Is the Eras Tour merch even worth waiting forever in line for? That's really up to you, but I personally wouldn't stress or waste my time. There is plenty of cute merch available online that you can order from your cozy couch at home. The show exclusives are cute, but IMO, the Eras Tour blue crewneck that everyone is talking about isn't totally unique. There is a hoodie version of it available online for $75. Plus, Etsy is also a great resource if you're looking for Eras Tour crewneck dupes. Since anyone can go to these merch trucks, it kind of takes away the exclusivity of getting concert merch at the concert as well.
The other item selling out quickly is the gray quarter zip pullover that has the Eras Tour image on the back with "Taylor Swift" and "The Eras Tour" written on the sleeves. If you're in love with the pullover style, there isn't a match for it online, but the gray Eras Tour crewneck has the same vibe and is just $65. The only problem is you might have to wait a bit longer to wear it.
Since the tour began, more and more Swifties have expressed their disappointment with one specific design in the merch, featuring photos of Swift from different phases of her career on items like the aforementioned tees, hoodies, crewnecks, and quarter-zip pullovers. Many fans who purchased swag with this design took to TikTok to complain about a defect in which the art would fade after one wash. However, Swift's team has since come out saying this is an intentional style choice. "This slight fade is related to the product's distressed, vintage look," read a statement on Swift's official online store. Though, it also called out how fans care for the items post-purchase, adding, "Please also note it is important to follow product care instructions as listed on the product label when washing and drying your items, to best protect and maintain the product's look and feel."
Other tour exclusive items like the water bottle and tote bag are much easier to find inside the venue, if you happen to have a ticket. I only waited about 20 minutes at a booth right past security and was able to get the water bottle, baton, and shirt I wanted. Another booth around the corner had a much shorter line with the tote bag and show poster. There was also a main merch table right inside the stadium that still had everything.
How To Get Midnights (The Late Night Edition) At Taylor Swift Eras Tour
On May 24, Swift announced that she was releasing two more versions of her Midnights album — a Midnights (The Til Dawn Edition) and Midnights (The Late Night Edition). Swifties can pre-order the Til Dawn Edition now for $10, but in order to get your hands on a Late Night Edition, you have to be going to Swift's show in NYC.
"For those going to the East Rutherford shows — we will have a new special edition CD available ONLY on site starting at 12:30 p.m. ET on Friday," Swift shared on Instagram. The new version of Midnights will feature a brand new song from the vault, "You're Losing Me." Taylor Nation shared further details with fans via IG DM that only "ticketed fans" can shop the new album at all three of the shows at MetLife Stadium. They will be available at the merch truck in Lot E starting at 12:30 p.m. and the MetLife Gates and Team Store starting at 4:30 p.m. There will be a limit of four CDs per customer.
Tips For Getting Taylor Swift Eras Tour Merch
If merch is a priority for you, I recommend showing up early when doors open and trying to get to the main merch table inside ASAP rather than waiting hours for the truck outside. Austin Ashburn (@austinashburn4) also made a good point, telling Elite Daily, "Most of the shows are taking place in the summertime," so you'll want to avoid standing out in the sun for hours if you can. At least, remember to bring Eras Tour essentials with you if you do plan to camp out, like a water bottle and sunglasses.
For anyone waiting for the merch truck, try to show up as early as possible to give you the best chance of getting what you want before it sells out. Be sure to check the inventory before stepping in line as well. They tend to run out of certain sizes early, and you don't want to get to the front only to realize they don't have your size anymore.
However, if you do get the wrong size and you find another merch table that has the right one, Jordan Walker (@fairytaleswift) told Elite Daily that it's possible to exchange. "We went to another [table] and they simply swapped sizes, so that was great," she shared. Just give yourself plenty of time before the show to get all the merch you want. Swift's set has been starting around 8 p.m., so you have from doors open till then to make all the purchases you need.
What Taylor Swift Eras Tour Merch Is Available Online?
While the tour exclusive merch gets points for being, well, exclusive, there is also Eras Tour items that are only available online. Some of the tees are actually cuter than the ones sold at the stadium and are inspired by the different eras. There is also more variety with cropped pullovers, a blanket, portable charger, mug, and nail gems for an Eras Tour manicure.
Along with the free shipping that's available for orders over $50, there is also a promo code after each show that expires 24 hours after the show. It's not guaranteed to be available for every city, but it's a win-win to check to see if you can score your very own discounted Eras Tour merch that you didn't have to wait half a day in line to get.
This article was originally published on