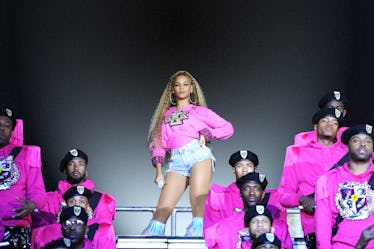 We Broke Down The Top 5 Moments From Beyoncé's 'Homecoming,' You're Welcome
Netflix
It wasn't even 10 days ago that Netflix dropped a surprise trailer for Beyoncé's Homecoming. Billed as a Netflix documentary taking fans behind the scenes of the making of the artist's historical Coachella performance last year, fans tuned in at 3 a.m. ET when it arrived only to discover she'd done it again. Like Lemonade (also billed as a documentary) this was no pure docu-special, but a concert film that coincided with the release of a live album as well. These moments from Beyoncé's Homecoming are proof the Netflix release is a can't miss.
Of course, it was an album drop. And of course, it was more of a concert film than a documentary. The BeyHive at this point is used to Queen Bey promising a look behind the curtain that shrouds her private life, only to hand everyone brand new music instead. They don't mind. The concert footage is incredible, and the entire film is downright thrilling.
But there are some clips of the making of the concert, where Bey does twitch the curtain back for a few seconds here and there, allowing the audience to get an idea of how hard she worked to make her incredible performance come off. These are the best moments, hands down.