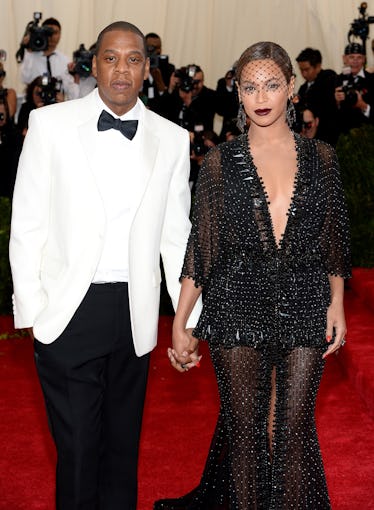 The Video Of Beyoncé Playing With Sir & Rumi At Her 'Vogue' Photo Shoot Is So, So Sweet
Dimitrios Kambouris/Getty Images Entertainment/Getty Images
If there was ever a world where Beyoncé didn't exist, I wouldn't want to live in it. She's Queen Bey for a reason, you dig? Apart from being wildly successful in her career as an artist, she's also clearly a kickass mother and gives every woman on the planet some serious wardrobe envy. Basically, Beyoncé can do no wrong, and there's no way you can prove otherwise. Which is why her most recent Vogue cover is still making waves, having captured her in a disarmingly organic and natural element, showcasing just how much this chick ~glows~. But now, there's a video of Beyoncé playing with Sir and Rumi in a behind-the-scenes look of her Vogue September cover, and y'all, I am TRANSFIXED.
Here's a brief overview if you have — for some strange reason — missed the stripped-down photo session of Bey for Vogue: Beyoncé basically took over for Anna Wintour for their September issue, helping to choose everything from the photographer, 23-year-old Tyler Mitchell, all the way to penning the first-person narrative essay herself alongside Jezebel Culture Editor Clover Hope. Beyoncé essentially took over Vogue, and absolutely nailed it.
And now, in a behind-the-scenes video posted by Vogue, we see an inside look at how exactly the photo shoot went down, and let me tell you, my heart grew ten sizes — not just because of how absurdly effervescent Beyoncé looks throughout the video, but because of how adorable her children, Blue Ivy, Sir, and Rumi, are in their Vogue cameo.
The video is shot almost as if it's an old-timey home movie, and it's giving me some serious nostalgia. We see Bey looking like an actual goddess as she is preparing for her photo shoot, and it's honestly all so very, very dreamy.
Here are some snapshots that I literally lost it over:
Beyoncé expertly braiding her own hair:
Because of course Beyoncé would work with her stylists and lend a helping hand.
Blue Ivy filming like some sort of pro:
This girl is a toddler and is pretty much defying anyone who thinks that children can't be professionals, too.
The joy on Beyoncé's face while looking at one of her twins:
I'm going to go with Sir, but I can't be positive. They're twins, don't @ me.
Beyoncé snuggling up to the other twin:
Taking a leap and going to say this is Rumi, but again, we're talking about twins here, and we can't see their full face. Give a girl a break.
Blue Ivy and Sir (???) giving all of the snuggles to each other:
You simply cannot get cuter than that.
Beyoncé proudly holding her two little babies:
Remember in that last photo when I said things couldn't get cuter? I lied.
And lastly, Beyoncé looking like the stunning vision that we all know she is:
All hail Ms. Carter.
If you can spare a little over three minutes of your life, I highly suggest you check out the video itself. As much as my screenshots are *superb*, they simply don't do the video justice:
There's a reason why Beyoncé wears so many dazzling crowns for her Vogue cover, and it's pretty clear that the answer is because she is actual royalty. The end.