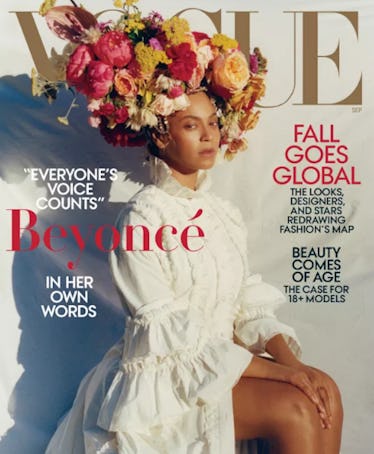 Beyoncé's Look On Her September 'Vogue' Cover Just Made Me Burst Into Tears Of Joy
Tyler Mitchell/Vogue
Well, it's here: the highly anticipated September 2018 issue of Vogue where the Queen Bey herself was given a pretty huge part to play in its creation by the illustrious Editor-in-Chief Anna Wintour. To say that the history-making images, art, and copy did not disappoint would be a major understatement. And while there is so much to unpack with this historical issue, let's start with as good of a place as any: the look. Beyoncé's look on her September Vogue cover is, of course, stunning, but when compared to how we're used to seeing the singer, it's surprisingly very natural, stripped-down, and authentic.
According to the cover story, penned by none other than Beyoncé herself, that accompanied the shoot, Bey talks about how her post-pregnancy body influenced the desire to strip away all the extras for her cover shoot. "I think it's important for women and men to see and appreciate the beauty in their natural bodies. That's why I stripped away the wigs and hair extensions and used little makeup for this shoot."
The singer's long-form, first-person, as-told-to-style essay eloquently touches on not only her post-pregnancy body, but her life, her heritage, motherhood, and her desires for her children. To help make her vision whole, Beyoncé enlisted two trusted members of her glam squad: Neal Farinah for hair and Sir John for makeup.
For the shot that graced the cover of Vogue's largest issue to date, it seems as though Sir John went for brushed-up brows, a glowing complexion, and a nude lip on Bey. True to Bey's wishes for the photos, Farinah kept Beyoncé's hairstyles in all the photos very natural, mostly opting for braids, even underneath the stunning headpiece and floral headdress, from Lynn Ban and Rebel Rebel, respectively. Another headpiece that Queen Bey opted for? The golden Philip Treacy London hat that beams from the top of her head like a halo (halooooooo).
The mom of three, who is on the final leg of her On The Run II tour with her husband JAY-Z, has graced the cover of Vogue three times before, but never have we been able to see Bey as genuine and open as she is on her fourth cover with the publication. Aside from the aesthetically pleasing visuals, the way in which Beyoncé pulled back the curtains on her innermost thoughts about her life, about paving the way for her kids and for the next generation of creators, and about the ways in which she's grown as a person since rising to stardom nearly 20 years ago is what truly sets the September 2018 issue of Vogue apart from previous editions of the magazine (and any other magazine, honestly).
"When I first started, 21 years ago, I was told that it was hard for me to get onto covers of magazines because black people did not sell. Clearly that has been proven a myth," Beyoncé wrote in her cover story. "Not only is an African American on the cover of the most important month for Vogue, this is the first ever Vogue cover shot by an African American photographer."
Yes, for this momentous occasion, Bey decided to work with 23-year-old New York-based, African American photographer Tyler Mitchell as the man behind the lens of the legendary shoot. "It's important to me that I help open doors for younger artists," she added. And open the door, not only for Mitchell, but for countless young people looking to her for inspiration, she has.