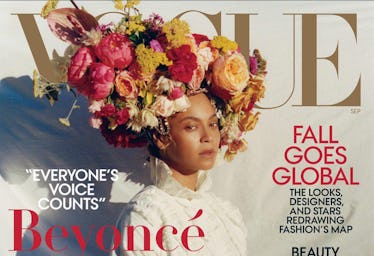 Grab Your Wallet, Because Beyoncé's Makeup Artist Revealed How To Get Her 'Vogue' Cover Glow
Vogue
Beyoncé has a strange power: As she makes fewer and fewer appearances, she somehow grows more and more relevant. Because of this scarcity, we end up craving more Bey and jump at any chance we can to see her in action. When it was announced she'd be featured in an upcoming issue of Vogue — and not just any issue, the September issue, aka the most important one! — I instantly assumed she'd wow us with some over-the-top, editorial beauty lewks. Always one step ahead, though, Bey went the most surprising route of all: Beyoncé's makeup on her September Vogue cover was a natural, barely-there masterpiece, and it made a bigger statement than any avant-garde look could have ever done.
If you haven't heard, Beyoncé didn't just grace the cover of Vogue — she did the damn thing. Bey essentially stepped into Anna Wintour's shoes for the day. She chose everything from the photographer, 23-year-old Tyler Mitchell, to the photos chosen to the words on the paper, in a first-person, as-told-to-style essay with Jezebel Culture Editor Clover Hope. Needless to say, she looks as effortlessly radiant as ever on the magazine's covers.
Shout out to Mitchell, who, in addition to capturing these amazing shots, nabbed the title of the first black photographer to shoot a U.S. Vogue cover.
The photos are totally major, but the makeup itself? Minimalist, in the best possible way. Beyoncé used her go-to makeup artist, celebrity favorite Sir John, to create the perfect cover glam. The pair are constantly churning out fantastic looks, so it's no surprise Bey trusted him to deliver this time around, too.
So, what's the story behind this particular look? Sir John says via a press release that the goal of the look was "all about redefining glamorous as a state of mind." "Beyonce loves a 'no-makeup' makeup look," he continues. "She's all about being confident in your skin and owning your natural element."
While we're used to seeing Bey in full-glam at most concerts and performances, the Vogue cover served up some stripped-down realness, yet the glow was still as bright as ever. "We focused on enhancing her natural brows, skin and structure," says Sir John, "and bringing out that inner glow. It's a #boybeat."
Now that we've gushed over the cover and discussed the inspo behind the look, let's talk products. According to the press release, Sir John went all in with Marc Jacobs Beauty at the shoot, so you can totally snag the products for yourself.
To prep, he went in with the Marc Jacobs Beauty Under(cover) Perfecting Coconut Face Primer ($44, marcjacobsbeauty.com), an ultra-hydrating primer that smoothes and replenishes, thanks to five types of coconut within the formula. According to Sir John, applying foundation on "wet, moisturized skin" is "the best way to lock in your glow," so a primer that gives you a fresh-faced base is a must.
Next, he dabbed a bit of the Marc Jacobs Beauty Dew Drops Coconut Gel Highlighter in the shade "Fantasy" ($44, marcjacobsbeauty.com) to the high points of her face to accentuate the glow. The limited-edition shade is a rose-gold hue that glistens without chunky glitter or sparkle, so it's the perfect pick for adding a little luster to your look. "Always avoid shimmer on the front of the face," Sir John advises. "Apply it to your angles for sexiness."
And once he had that dewy base all prepped? Rather than coat it with a heavy matte foundation, he instead whipped up a concoction of foundation mixed with more of the Dew Drops Coconut Gel Highlighter in "Fantasy." Turns out, the famous MUA really swears by this stuff — and says the drops are absolutely worth it: "It's the one thing I have in my bag everywhere — I use it for concerts, for shoots, for tours — I use it religiously." Note to self: This is a must-buy.
With the glow perfectly established, Sir John toned things down and finished off the look by setting the skin with the Marc Jacobs Beauty Finish-Line Perfecting Coconut Setting Powder ($44, marcjacobsbeauty.com). Setting oily areas like the T-zone is important, even when creating a glowy look, as it helps keep everything looking dewy, not sweaty.
While I do love Beyoncé's more over-the-top looks, I must admit this natural beat is a total win. It feels very in line with the entire Vogue feature, in which she talks about self-love and confidence in her body, her heritage, and more. Her words in Vogue showcase her real, raw self, so a toned-down makeup look to match was the perfect choice to enhance — not distract from — the real Queen Bey.