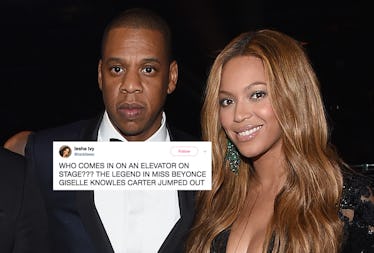 Beyoncé & JAY-Z Enter The 'On The Run II' Stage On An Elevator & I'm Screaming
Larry Busacca/Getty Images/Twitter
Of course, sometimes sh*t goes down when it's a billion dollars on the elevator! Beyoncé and JAY-Z kicked off their On The Run II world tour in Wales on June 6, and all was right in the fandom again. As we all know by now, whenever Beyoncé performs, she pulls out all the stops. That, of course, applies when she's touring with her husband, and perhaps the best stop they pulled out for this tour is their entrance: They descend onto the stage on an elevator. Yes, an elevator. Beyoncé and JAY-Z's elevator entrance in their On The Run II tour has fans losing their minds over the reference to the infamous Met Gala elevator fight between Solange and JAY-Z.
You all remember the iconic line in the "***Flawless" remix featuring Nicki Minaj that addresses the elevator fiasco flat-out, right? Of course you do. One doesn't forget history so easily. Let's review. In the first verse of the song, Queen Bey sings,
It's that Yoncé, your Yoncé / In that lingerie, on that chardonnay / Scoring touchdowns on your runway / I'm Texas forever, like Bun B / And I'm Redboned yo / I'm really rit' like Donjae / I'm camo in here yo / These thots can't clock me nowadays / You wish I was your pound cake / Boy, you know I look good as f*ck / Wish I was your baby momma / Want me to come around and give you good karma / But no, we escalating, up in this b*tch, like elevators / Of course sometimes sh*t go down when it's a billion dollars on an elevator / Of course sometimes sh*t go down when it's a billion dollars on an elevator / Ha-ha! God damn, God damn, God damn!!!
You'll remember that in 2014, in a moment following the Met Gala, Beyoncé, JAY-Z, and Solange were in an elevator together when JAY-Z apparently said something to piss Solange off and she just went off on him. The fight was caught on camera (without sound, since it was security footage) and has since become infamous. Beyoncé referenced this fight in her music for the first time on the "***Flawess" remix, and then JAY-Z addressed it in the song "Kill JAY-Z" from 4:44 ("You egged Solange on," he raps).
Now, they've made possibly their biggest reference to it ever by descending onto the stage on a literal elevator.
Fans can't handle it. I, personally, can't handle Beyoncé's outfit, but that's something we can talk about another time.
Bey and Jay did that. These two are experts at capitalizing off of their own relationship. Every time they make a song together ("Crazy In Love," "Bonnie & Clyde," "Drunk In Love," "Family Feud," etc.), the song is all about their relationship. And of course, Lemonade is iconically about their relationship as well, just not the good parts of it. Some fans were hoping the couple would release their rumored joint album before the On The Run II tour started, but that wasn't in the cards, apparently.
JAY-Z revealed in an interview with T Magazine (part of The New York Times) in November 2017 that he and Beyoncé were working on a joint album when the ideas for Lemonade and 4:44 came about. "We were using our art almost like a therapy session," he said. He continued,
And we started making music together. And then the music she was making at that time was further along. So her album came out as opposed to the joint album that we were working on. Um, we still have a lot of that music. And this is what it became. There was never a point where it was like, 'I'm making this album.' I was right there the entire time.
That joint album is still nowhere to be found, but hopefully, they'll release it one of these days. Beyoncé did her iconic surprise drop of the Beyoncé album while she was doing The Mrs. Carter Show world tour, so it wouldn't be too far off to think it a possibility that Beyoncé and JAY-Z could release a joint album while on the road.
Another moment fans freaked out about from the first performance on the On The Run II tour was the apparent reveal of their 11-month-old twins, Rumi and Sir.
But fans were thrown for a loop when Beyoncé's representatives told BuzzFeed that the babies Bey and Jay are holding in the photos and videos from the tour are not actually Rumi and Sir. (Yes, I feel very betrayed by this. No, I don't want to talk about it.) Beyoncé's representatives simply said "It's not" when asked if the babies in the photos and videos are, in fact, the twins. So to sum this all up... we have no new Beyoncé album, no Beyoncé and JAY-Z collaboration album, and no new pictures of Rumi and Sir. Goodnight.