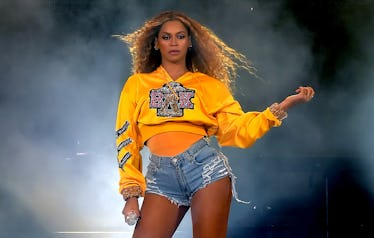 No, Beyonce's Twins Rumi & Sir Are Not In Those Viral On The Run II Tour Pics - UPDATE
Kevin Winter/Getty Images Entertainment/Getty Images
Prepare to have your hearts melt, Beyoncé fans! The legendary chanteuse just revealed another look at the adorable faces of her twins, Rumi and Sir. And the internet is going wild! Beyoncé's new photo of her twins was shared during the singer's On The Run II tour with hubby JAY-Z and, honestly, it's amazing!
UPDATE: It looks like this was a false alarm. Beyoncé's representatives told BuzzFeed on the evening of June 6 that the babies Beyoncé is holding in the photo are not actually Rumi and Sir. The representative did not say who the babies were.
EARLIER: The never-before-seen photos of the twins were displayed proudly on screen as Bey and JAY-Z kicked off their tour in Cardiff, U.K. And believe me when I say that everyone, Bey fans or not, is losing their minds over of these photos.
To be fair, the photos are incredibly adorable. One photo, which was displayed on the left side of the screen, showed mama bear Bey holding her little babies. And, on the right side of the screen, proud papa JAY-Z can be seen holding Rumi and Sir.
In between the photos was a third that displayed a simple quote: "Love is universal."
So, Bey and JAY-Z are taking this opportunity to show the world that love is love and it transcends everything. What a beautiful message! They are honestly such a beautiful family and I love how much of that family love they share with fans. The world doesn't deserve them!
While it's still unclear which twin is Rumi and which twin is Sir, Bey and JAY-Z are clearly happy to be their parents. I mean, why else would they put their mini-mes on display for all the world to see?
Here's a look at the little cuties:
Oh my goodness, they're beyond adorable! I bet little Blue Ivy loves them to pieces. Here's what fans are saying about the photos:
They're precious, obviously!
Haha, some fans are also trying to figure out which baby is which:
Others simply can't contain their excitement (which is totally understandable):
A bunch of fans even commented on how chunky Rumi and Sir are. In a positive way, of course! So cute!
Obviously, the fans are as excited as anyone about the new pics of Rumi and Sir. Who wouldn't be excited? There's A LOT to be excited about. Bey and JAY-Z are currently on tour, there are new pics of the kids, Bey is slaying as always — the list goes on!
But, at the same time, Bey and JAY-Z have a lot on their plate as well. It must be a difficult balancing act, for sure! With three little ones in tow and a huge tour currently in progress, the famed couple has their work cut out for them. But they seem prepared for whatever comes their way.
Back in May 2018, Bey skipped out on the Met Gala to go on a little vacation with her husband. At the time, a source told ET that JAY-Z wanted his wife to relax before the tour.
"JAY-Z surprised her with a trip because he felt she needed to relax before her tour," the source said.
The tour, which literally just kicked off, is completely packed with back-to-back performance dates. So, yes, Bey definitely needed to take some time to relax before heading out for this high-anticipated tour, especially with all those little kids running (or crawling) around!
The On The Run II tour is a follow-up to the original On The Run tour, which was also headlined by JAY-Z and Bey back in 2014. That tour was massively successful for them and, with any luck, this second tour will be as well. The world loves to see these lovebirds work together. It's amazing what the power of love, hard work, and talent can do for the entertainment world. Plus, it makes the fans smile a whole lot, too.
But y'know what else would make us smile? Another album, Queen Bey! It's been two years since you dropped Lemonade, girl! We're struggling out here.