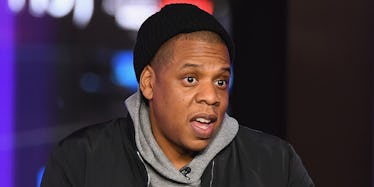 JAY-Z References Elevator Drama With Solange On New '4:44' Album And It's Intense
Dave Kotinsky/Getty
If you thought the Carters were taking a break from the public eye just because they had twins, you thought wrong: JAY-Z's new album, 4:44 is here.
And look, while yes, it is incredible this is JAY-Z's 13th album, and yes, he is 47 and still the king, we're not here to talk about music. We're here to talk about one thing and one thing only: Beyoncé drama.
If you've had a chance to sit down and analyze the lyrics on 4:44 yet, you know Jay references a lot of his past drama with Queen Bey — including his memorable elevator fight with Bey's sister, Solange.
In the very first song on his new album, "Kill JAY Z," JAY-Z raps,
You egged Solange on / Knowin' all along, all you had to say you was wrong/You almost went Eric Benét /Let the baddest girl in the world get away/I don't even know what else to say/Nigga, never go Eric Benét.
There are a few references to parse out here to fully understand what JAY's saying.
First, let's refresh ourselves on the Solange incident being referenced since it is now over three years old. On May 5, 2014, footage was leaked of Beyoncé's younger sister Solange attempting to physically assault Jay-Z.
At the time there no audio or context for the footage.
Then, two years later, Beyoncé released Lemonade and broadcast a fairly clear message: JAY-Z had cheated on her. Fans quickly put two and two together and deduced that what had become known as the Elevator Attack was Solange defending her sister's honor.
Now, another year has gone by and we have this verse from JAY — "You egged Solange on" — which pretty much confirms that theory.
To fully comprehend the confession of cheating, let's look at the second reference in there: "You almost went Eric Benét /Let the baddest girl in the world get away."
That's a reference to musician Eric Benét, who was married to actress Halle Berry from 2001 to 2003. Benét later publicly confessed to cheating on Berry and went to rehab for sex addiction.
By the way, Benét has already responded to JAY-Z referencing him with a tweet.
So, with those two references together, it seems safe to say JAY-Z admits to cheating on Bey, and that's why Solange attacked him in an elevator in 2014.
Mystery solved! Major props to Solange for defending her big sis.