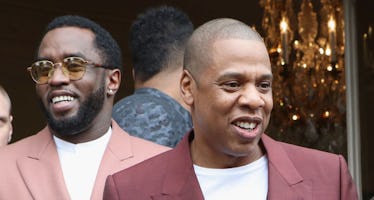 Diddy Gave JAY-Z Advice On How To Raise Twins And It Will Melt Your Heart
Ari Perilstein/Getty Images for Roc Nation
Hey guys, what's better than one famous dad with twins? This is not a trick question.
The answer is... two famous dads with twins! Literally, duh!
Sean "Diddy" Combs recently gave double-baby daddy JAY-Z some advice on raising his new twins with wife Beyoncé, and we're all like, "Be our dads and also our husbands. Wait, what?"
Diddy recently stopped by The Late Night Show with Seth Meyers and let us in on the kinds of conversations he and JAY have been having now that they are both fathers to twins. While Diddy admitted normally he's the one leaning on JAY-Z, this time, it's the other way around.
"JAY's usually the one that gives me counsel, so I was so happy to be able to give him counsel on this."
CAN YOU IMAGINE COUNSELING JAY-Z ON ANYTHING?! WHAT A LIFE!
Diddy, who is father to six children – including 10-year-old twin daughters D'Lila Star and Jessie James – says the main thing JAY needs to brace himself for is double the love.
The thing that I said, is that you really have to be prepared for double the love. You're used to getting love from one child, but when you get this incredible love from two kids and they're twins, it's truly a blessing and may God bless him and Beyoncé and the family and everybody out there that has kids — period.
Forbes' richest celebrity of the year went on to say, "To have twins is double the fun."
However, Meyers followed up with what we all are wondering: is it more work? Diddy responded, "I just want to say thank you to the mother of my children!"
We'll take that as a strong maybe.
Still, we suspect Beyoncé and JAY-Z are just slightly ahead of the parenting game, recently moving into a Malibu mansion and paying a very chill $400,000 a month, as reported by E! News.
Something tells me the twins won't have to sleep in bunk beds.
In the wise words of Diddy, God bless JAY-Z and Beyoncé.