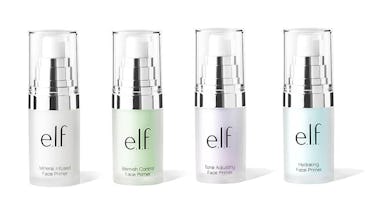 The Best Primers In The U.S. Are Under $12, So Here Are The Best Ones For Your Skin Type
If you're part of the minority convinced that face primers don't really help with makeup application, I'm here to argue that perhaps you only feel this way because you haven't used the right ones. Before you give up on priming, you'll have to try out the best-selling face primers in America, which reportedly come from budget beauty brand e.l.f. Cosmetics. And since the e.l.f. Cosmetics Face Primers all cost $12 or less, you've really got no excuse.
Allure recently reported that global measurement and data analytics company Nielson did the math to discover that one e.l.f. Primer is sold about every six seconds, making theirs the top-selling primer in the country. If I had to guess, their number-one status is likely the result of a combination of their super effective products and their bomb price tag. Almost everything e.l.f. sells is under $15, with the bulk of their products costing no more than $5 — I'm talking great makeup for less than the price of a grande Frappuccino. Did I mention they're all 100 percent vegan and cruelty-free? Oh yes, yes they are.
If I'm honest, I sometimes have trouble shelling out the big bucks for products I don't really see. I always manage to justify a gorgeous eyeshadow palette regardless of price because I can snap selfies of my smokey eye all day, but because I can't always see a primer at work, it can be harder for me to justify the purchase in my head. For this reason, a drugstore primer is a must for me, and clearly, a lot of other people agree. There are tons of effective drugstore products that get the job done with the same quality results as their pricier counterparts — and brands like e.l.f. make it easy to find the perfect product for your skin type.
Despite often being invisible, primers are hardly a one-size-fits-all type of product; your skin type and makeup preferences determine which ones will work for you. Anyone with an oily T-zone knows a mattifying primer can be a holy grail solution; meanwhile, someone with dry skin might crave something a little more hydrating and dewy. That's why e.l.f. has not one, not two, but 12 unique primers available on their site, each suited to different skin concerns and desires. They also come in a variety of different formulas, from liquids and sprays to balms, sticks, and even a sheet mask. Talk about innovative! All you have to do is find the one that works for you.
For Oily Skin
If you're someone who struggles with an oily complexion, e.l.f. has quite a few options to help you out. The goal here is to find a base that keeps skin shine-free, and for this, the HD Mattifying Balm ($2.40, regular $6, elfcosmetics.com) is your best bet. Vitamin E, jojoba, almond, and grape combine in this easily spreadable balm formula. Just use your fingers to press the product into your T-zone and anywhere else your oils tend to build up throughout the day. If it's a particularly hot day and you need to call in backup, double your dose of oil control by spritzing the Oil Control Primer Mist ($8, elfcosmetics.com) before going in with your HD Mattifying Balm.
For Dry Skin
Dry skin craves serious moisture, so the Hydrating Face Primer ($6, elfcosmetics.com) is a no-brainer. Chock full of Vitamins A, C, and E, this formula promises to give dry, dull skin a wakeup call and transform you into the well-rested, radiant, hydrated queen we're all pretending to be on Instagram. Mission accomplished.
For Normal Skin
Normal skin has the luxury of getting to play around when it comes to products, so why not go for something fun like the Primer Sheet Mask ($2, elfcosmetics.com)? This mask promises a smoother, radiant base for makeup application, and it only needs to be worn for five minutes to see results. Relaxing in a sheet mask also feels way more luxe than starting your morning in a rush, so if you've got the time, it can double as a self-care treat!
For Combo Skin
It can be difficult to pinpoint the perfect products for combination skin: Some areas need help eliminating oil, while others could use a little extra dew. To find the perfect base, I recommend picking up both the Prep & Hydrate Balm ($8, elfcosmetics.com) and the Prep & Blur Stick ($8, elfcosmetics.com). Stick formulas are great for combo skin because you can focus different treatments in different areas, according to what each section needs. Use the Prep & Hydrate Balm where skin looks dull or dry, and apply the Prep & Blur Stick to oily or porous areas to smooth them out. Mixing and matching allows you to create your perfect base, and products this inexpensive allow you to do so with ease.
For Acne-Prone Skin
There's nothing worse than trying to put on makeup to cover your pimples, only to have those products trigger even more breakouts. Acne-prone skin needs makeup that works like skincare, and the Blemish Control Face Primer ($6, elfcosmetics.com) will help to heal skin while it covers. Acne-fighting power ingredients salicylic acid and tea tree extract are combined with Vitamin E, and the green undertone of the primer itself will help to color-correct redness.
Now that the secret is out about e.l.f.'s primers being the most widely purchased in the country, expect the e.l.f. aisle at your local drugstore to get a little more crowded. Don't be afraid to try one, or two, or three — with a good price comes the opportunity to treat yourself!