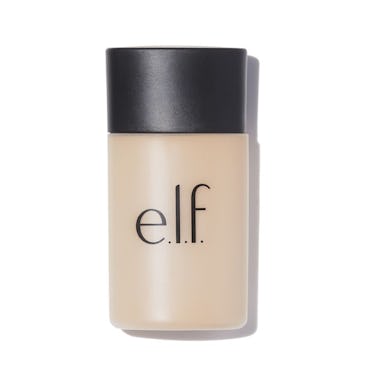 This $6 Acne-Fighting Foundation Is Both Skincare & Makeup — & It's Almost Sold Out
Finding foundation for acne-prone skin is like Prince Charming's search for the owner of the glass slipper. You'll have to try dozens (if not hundreds) of options before you find the one. However, once the shoe fits, you'll wear it forever. The E.L.F. Acne Fighting Foundation reviews prove this formula is more rare and precious than Cinderella (sorry, sis). Not only will it cover any redness and dark spots associated with active and healing breakouts, it will also help to heal them over time with the power of salicylic acid, witch-hazel, camphor, tea tree, and aloe. You might have to search far and wide throughout the drugstore kingdoms to find one, but once you do, you'll live happily ever after.
Now this foundation might be one of the best-kept secrets of the beauty industry. It's been out for three years, but it only started blowing up in the recent weeks. For $6, it will conceal current breakouts and scarring while preventing future damage to your skin — the ultimate win-win situation. TBH, I'm not surprised that those who knew and loved the foundation well kept this magic potion to themselves. Now that the cat's out of the bag, it's nearly impossible to get.
E.L.F Acne Fighting Foundation, $6, E.L.F Cosmetics
The E.L.F Acne Fighting Foundation comes in five shades: Porcelain, Buff, Beige, Sand, and Caramel. Out of the five hues, only Caramel isn't sold out at the moment. There are over a thousand reviews on the market with over a 4-star rating on the E.L.F. website, and for good reason. This foundation gives full coverage without caking up on acneic and oily skin types, which is a miracle in itself. Generally, many matte foundations with high pigment loads might separate or create texture dry patches or areas where acne is occurring. All the reviews say roughly the same thing: The foundation is a cult favorite, the only one that will work for some of the E.L.F. customers. However, no one has been able to find this product in store or online for months.
The ingredients might be responsible for the true addiction this foundation has created in its wearers. Salicylic acid exfoliates the skin by diving deep into the pores. It works two-fold by dissolving the dirt, debris, and oil that cause acne, and by loosening the glue that holds surface skin cells together. This means salicylic acid will help to prevent future breakouts and will help current breakouts to disappear more quickly.
Witch hazel is a natural astringent that removes excess oil from skin. It soothes red and irritated skin, and helps to reduce swelling (sounds familiar, my fellow acne-prone friends). Witch hazel can provide you with some much-needed relief.
The final few ingredients (camphor, tea tree, and aloe) help to disinfect and soothe skin. Thanks to the composition of the product, the formula will help heal your current breakouts and actively fight future breakouts before they even occur.
Oily and normal skin types are loving this $6 foundation. They rave about the finish, the texture, and longwear of the foundation. The only major downside is the limited shade range (make more colors, E.L.F.!) and that the coverage of the foundation alone might not be enough to cover really stubborn blemishes. Using a green color corrector or a concealer is definitely enough to solve the problem, though.
It does work some magic, overall. Because there are only five shades, many YouTubers have to mix in lighter or deeper shades to get the foundation to match them.
It also looks like there are less shades on the E.L.F. website than there used to be: Is this foundation getting discontinued? Are they preparing for a relaunch? Who's to say, but those who stan the foundation are definitely hoping for the latter.
If you find this product in Target, on Amazon, or on the E.L.F. website, snag as many $6 bottles as your wallet can handle.