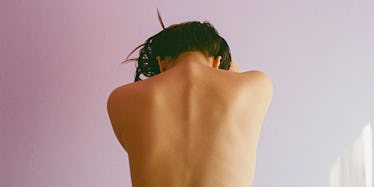 How To Hide And Treat The Body Acne That's Ruining Your Life
I'm the unfortunate vicim of body breakouts.
As a teen, angry body acne sprouted on my neck, shoulders, chest and back. Even my legs got a smattering of zits, so wearing shorts in the summer was embarrassing.
To this day, I still feel a stray pimple or two in a non-traditional place every so often, but they only ever seem to build up angrily aight before I plan on wearing a backless dress or swimsuit.
Seeing as I can't hide in my apartment all summer, I got in touch with Regan Rabanal, Senior Artist at MAC Cosmetics for some pimple coverage magic. I also spoke with Dr. Howard Sobel, dermatologist and founder of DDF Skincare, for tips on how to keep those nasty suckers from ruining my life.
Where are all these zits coming from? I thought I was past this!
Your body doesn't hate you, you're just not treating it right.
Back and chest pimples, Sobel explains, stem from clothes that are too restrictive. Materials like spandex block pores, and all that trapped bacteria can lead to a honker of a zit.
Another contributing factor is that we don't wash and exfoliate our bodies the way we do our faces. In fact, the only time our bodies really "get clean" is in the shower and, even then, we don't slough away dead skin. On a strictly practical level, though, body breakouts on the back and shoulder are just hard to reach.
"You need to have a partner!" Sobel jokes. Yeah, because pimple-popping is a great pick-up line.
Can I use the same concealer I love for facial pimples when I have a body breakout?
My instincts tell me I should have a different foundation and concealer for my body. According to Rabanal, however, that's not necessary.
The most important thing, he explains, is using long-wearing products for your face and body, because clothing and perspiration can contribute to helping your makeup wear off. Personally, I can't get enough of Hourglass's Illusion Hyaluronic Skin Tint and Kevin Aucoin's Sensual Skin Enhancer.
No need to invest in a made-for-body brush set, either, just make sure your tools are clean prior to "double dipping," so to speak.
What if my body is a different color than my face?
My face is, without fail, a totally different shade than the rest of my fake-tanned body. This, of course, makes finding a foundation a pain in the ass.
Rabanal's favorite "recipe" — a word I'm stealing to describe my own makeup routine — relies on a layer of MAC Studio's Face and Body foundation followed by Pro Longwear Concealer. Blend it all out with the ultra-precise 219 Pencil Brush.
MAC Studio's Face and Body, $25, Nordstrom; MAC Pro Longwear Concealer, $20, Nordstrom; MAC 219 Pencil Brush, $23, Nordstrom 
I use the tip of a damp Beautyblender to blend out the concealer I'm working with — I love Fiona Stiles' Light Illusion — and seamlessly blend it into my NARS Sheer Glow Foundation.
Beautyblender, $20, Sephora; Fiona Stiles Light Illusion Prism Palette, $14, Ulta; NARS Sheer Glow Foundation, $47, Sephora 
What if my zits are dry and flaky, or red and painful?
Not all zits are created equal.
Red pustules and whiteheads on your body aren't anything to get upset about. According to Sobel, a simple 10 percent benzoyl peroxide or salicylic acid treatment will banish them. Conversely, cystic acne needs dermatologist attention because it might require antibiotics to clear up.
Replenix Acne Solutions 10% Benzoyl Peroxide, $13.50, Amazon; Erno Laszlo Anti Blemish Beta Wash, $45, Amazon 
If you need to cover up that Australia-sized zit sooner, Rabanal recommends a yellow-toned concealer for neutralizing redness. I'm also all about green concealer -- I use the Smashbox Color Correcting stick to balance out those weird red splotchy spots.
Smashbox Color Correcting Stick, $23, Sephora 
Additionally, Rabanal recommends a great primer to make the whole concealing process easier.
How do I keep the stuff from sweating away?
Always use a setting powder, Rabanal suggests.
"If my client has oily skin," explains Rabanal. "I will recommend a touch-up powder that is both sheer and oil-controlling, like MAC Blot Powder."
MAC Blot Powder, $23, Nordstrom
What can I do to prevent pimples from popping up again?
The worst thing you can do, Sobel explains, is think your back or chest acne will go away on its own. Treating it with salicylic acid or benzoyl peroxide is really the way to go.
Additionally, he explains trying to "dry out" the pimple by exposing it to sun does more harm than good.
"You're inflaming it instead," stressed Sobel. "You're disguising [the pimple] by making the whole area red, but when the tan goes away, the acne actually comes back with a vengeance."
Treat your skin right and, hopefully, you won't have to deal with continued body pimples. If your back begins to rebel, however, know that there's nothing a great concealer can't do.