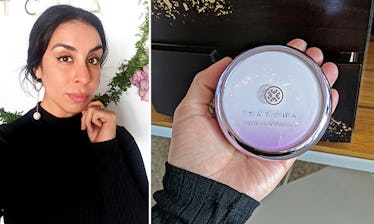 This Makeup Primer Completely Erased Every One Of My Pores & It's Back In Stock
Stephanie Montes
One of the best perks of my job is getting to test beauty products before they even hit stores. But before I could even do a Tatcha Silk Canvas Primer review, the silky elixir sold out on Sephora's website. None of my beauty editor friends had tried it yet, either. That never happens. Even Tatcha's last launch, The Water Cream ($68; Sephora), was super popular and could not stay in stock anywhere, but I had one jar sitting on my desk and the other on my vanity. In other words, the brand new primer must be bomb AF, because it was completely unavailable after just a couple days of being online.
Then today, two amazing things happened: I got my hands on Tatcha's The Silk Canvas Protective Primer ($52, Sephora) myself, on the very same day the primer was restocked online.
Actually, make it three amazing things. As for the third, I went barefaced for the day, and at a professional beauty event, nonetheless. I knew going into the party that I would be able to take the product home and try it for myself, but I couldn't wait to drive home 25 miles north of West Hollywood for my long-awaited opportunity. Instead, I chose to show up without foundation so I could try the primer right there on the spot — although I'm still wearing eyeliner, mascara and brow product (I'm not that wild!).
After making my way to Tatcha launch event, I found a seat at a makeup-artist's station and he immediately busted out the popular primer. He used the included disk to scoop out a small amount of product and apply it to my face. It felt incredible. The texture feels hydrating and light but doesn't feel like a silicone-packed primer. It completely absorbed into my face without feeling greasy or powdery. It's almost as if I applied moisturizer and gave it a half hour or so to completely seep into my skin, and there's no more trace of product, just soft and moisturized skin. And that's not even mentioning the smell: so fresh, relaxing, and clean.
Aside from the feel, my face is looking good (if I do say so myself). It has an illuminating quality to it, but not in a glittery way. There's no shimmer in it, but my face looks glowy and healthy. It also boasts a blurring property to it, which completely erased all of my pores — and I swear, this is no easy feat. I have huge pores on my nose and pinholes along the inner areas of my cheeks, and the primer has completely imparted a real-life filter onto my skin. Before I allowed him to apply any makeup on me, I took a selfie (OK, so I guess four amazing things happened today!) and my skin looked so even.
I was so impressed by the primer (and the lack of need for makeup) that I even interviewed the founder and CEO of Tatcha, Vicky Tsai, with my bare face. She complimented me on my poreless skin (I love her! She's literally the sweetest and I think it's just in her nature to be so nice), and you know what, I believed her!
Tsai proceeded to school me in cultural beauty, explaining the inspiration behind her brand new primer. Beauty junkies in Asia take skincare very seriously, and geishas are no exception. Due to tradition, they are known for wearing tons of makeup on their faces and simultaneously always having clear, acne-free skin. Tsai tells me their secret is to start their makeup routine by covering their face with a light layer of wax to act as a barrier for germs and product. Who would've ever thought of covering their face in WAX? Genius.
"If you ask a geisha for the single most important part of her skincare, she would say it's the wax — it's called bintsuke. They take it and press it and push it into their skin. It's the main reason you never see a picture of a geisha, they're never smiling — bintsuke makes it hard to smile. It keeps the moisture in the skin and it keeps the makeup out of the skin. It keeps pollution out of their skin, since Japan is so smoky. On the flip side, it masks pores and bonds the makeup to the wax, not the skin."
Similar to the geisha favorite, Tatcha's The Silk Canvas Protective Primer helps the colors of your makeup look more vibrant and stay in place all day, while keeping pollution and makeup out of your pores. I'm more of an immediate-results type of girl, and lucky for me, this primer is leagues easier to apply than wax.
All in all, I learned a new beauty fact, scored an amazing primer, and snapped a makeup-free selfie I'm proud to put on the internet. I'd call that a five star day.