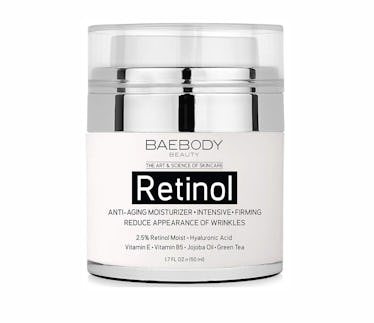 This One Moisturizer Is Apparently The Trendiest Product For Amazon Prime Day — & It's Just $14
Baebody Beauty
Amazon Prime Day is officially underway, which means that Prime members are able to snatch up the site's best deals on everything from kitchen appliances to clothing and everything in between. For beauty lovers, this means that no one's forced to stand in line to get their hands on some discounted products. And while many items seem to be flying off Amazon's virtual shelves, Baebody Retinol Moisturizer Cream in particular seems to be a proven cult favorite.
According to Amazon, the product contains an active retinol to fight the signs of aging, which will leave skin vibrant, tight, and glowing. It also works to even out your skin tone and smooth out wrinkles overtime. The brand boasts that this cream is "all natural," and contains 71 percent organic ingredients, including hyaluronic acid, green tea, and jojoba oil, all derived from plants as well. In addition, the brand is cruelty-free — so if you're about to log on to Amazon right now, you can feel good about your purchase. That said, it's easy to see why this moisturizer is the top-trending product of the sale, according to Pop Sugar. Nearly 3,300 people have shared their review of the cream online, and an incredible 69 percent are hooked, giving it a perfect five-star rating. Even more, this product is retailing on Amazon right now for just $14, WAY down from it's original $40.
"This product is amazing!" one verified customer wrote. "I've received compliments on having a youthful looking face after using this moisturizer for one week. I am really impressed with the results and will purchase again."
But while many are singing the praises of this apparent heavenly moisturizer, like many products, there's no guarantee that it will work for everyone. "This does nothing," another person lamented in the reviews. Such is life, though. And given just how many positive reviews this product has garnered, it's likely this baby's doing something right.
Whether you decide to get the cream to not, just because Amazon's Prime Day deals will come to a close the night of July 17, doesn't mean you still can't get a great deal on an affordable moisturizer.
Weleda's Skin Food is a favorite among major celebs like Rihanna, Adele, Victoria Beckham, and Julia Roberts. "I put it on my hands after I wash the dishes, and wind up putting it on my elbows and feet," Roberts told InStyle. "Before you know it, I've squeezed this poor little green tube into a twist." Skin Food is currently a part of the Prime sale, but can also be purchased on the site for a mere $14.23 on any other day as well.
If you're dead set on BaeBody, though, it's definitely worth exploring the many other products the line offers on Amazon, in addition to the face cream. The company's Vitamin C Serum, along with its Dead Sea Mud Mask, and Hyaluronic Acid Serum, all boast near perfect five-star ratings and have hundreds of positive reviews. So while there are only a few hours left to snag some of the best beauty products on the web for an amazing price, it only takes two seconds to hit "add to cart." So, let's get to shopping!