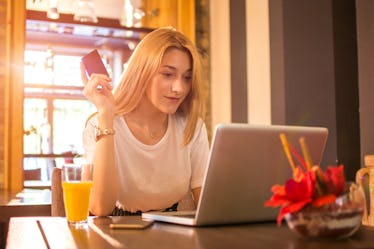 These 12 Amazon Prime Day Beauty Deals Are So Wild, They'll Make Your Head Spin
Fotolia
Amazon Prime Day is like Black Friday in July for Amazon Prime Members. Beginning at 3 p.m. ET on Monday, July 16, and continuing on for 36 hours, you'll be able to shop more than a million products at major discounts from the e-commerce giant in honor of their 23-year anniversary. And while shopping cleaning supplies, bathing suits, pressure cookers, and even groceries from the site is great and super convenient, the best beauty deals for Amazon Prime Day are what will have me signed in to my Amazon account.
Lucky for us, in addition to all of the already-available beauty steals, there are also four completely new beauty products that have launched on Amazon Prime Day from No B.S., Peripera Ink, and COSRX. While you were technically able to purchase each of those new drops already, the discounted prices available right now are absolutely wild.
Since I know from personal experience that scouring Amazon for the best beauty products (that you can get delivered right to your door) can be a bit overwhelming, it would only be appropriate to give you a breakdown of the four new (and discounted) Amazon Prime Day beauty launches, as well as some of the other amazing beauty deals available. So read on to find out a little bit more about the new products that you'll want to add to your cart and beauty cabinet.
Cult-favorite Korean skincare brand COSRX created this lightweight daily facial moisturizer that soothes and protects irritated skin. The moisturizer is good for dry, combination, and sensitive skin — so regardless of your skin concerns, this moisturizer is bound to work for you. And since I know shopping for skincare online can be a bit scary, with COSRX, you are guaranteed a product that is packed with active ingredients to deliver amazing results.
Amazon Prime Day introduces the launch of a brand new charcoal detox peel-off mask by the new skincare brand, No B.S. This upgrade to the charcoal peel-off mask trend that we've seen in recent years promises to detoxify your skin and rip away impurities without causing you major pain. You probably already know that activated charcoal works like a magnet to draw out toxins from the skin, as well as to minimize pores. As the brand's name suggests, this mask does so without all of the extra "b.s." aka toxic, synthetic ingredients).
If you're in the market for ultra-pigmented lip stains that go on smooth but dry matte and last literally all day, then this should be your main Amazon Prime Day pick. The lip stains last so long that the set comes with a special remover to gently remove the color at the end of the day. The set also includes three different shades — a bright red, a peachy orange, and an orangey red — just in time to embrace some of the summer's hottest lip color trends.
Due to the massive amounts of beauty products available on Amazon, the fact that the site is specifically recognizing these new launches as the Amazon Prime Day beauty launches has to mean that these products are something to write home about (or just have sent home). If you need some inspo for other products to snap up during Amazon's 36-hour sale, check out the products that are trending on Amazon right now, or read on below for some additional Amazon Prime Day beauty steels.
If you're in the market for a cleansing brush to exfoliate your skin, remove makeup, and prime your face for your best makeup application yet, you'll want to take advantage of the Clarisonic deals happening on Amazon Prime Day. Clarisonic will be one of only five Spotlight Deals running on the Beauty page throughout Prime Day, with 35 percent off of all devices, including the OG Mia 1, Sonic Facial Cleansing Brush System. This system combines micro-massage movements and fluid forces to cleanse the skin six times better than you hands alone, all within 60 seconds.
What's better than shopping for amazing discounted beauty products on Amazon Prime Day? Shopping for amazing discounted beauty products on Amazon Prime Day that make you feel like Beyoncé. That's right, the super-voluminous mascara that Bey's makeup artist Sir John used to create Beyoncé's Coachella makeup look is 30 percent off of two-packs on Amazon Prime Day. This way, you can look as ***flawless as Bey for a long time — and for under $20.
If you've ever found yourself struggling to get a brush through dry, tangled, damaged hair (same — literally every Sunday after a Saturday night out), then you need to get your hands on Coco & Eve's Like A Virgin hair masque. While the masque may not re-virginize your hair, it will bring new life back to your damaged hair, deeply condition and hydrateit, and add shine, thanks to ingredients like raw virgin coconut extract, essence of fig, shea butter, linseed, and argan oil.
If you've never used an oil cleanser to cleanse your face before, then odds are, you're probably not removing all of your makeup as effectively as you could be. Oil-based cleansers help to effectively remove makeup without stripping away the skin's natural oils, while still being easy to wash off. DHC's Deep Cleansing Oil is rich in vitamins and antioxidants to rid the skin of toxins, while still providing nourishment — so it's no wonder that one of these bad boys is sold every 10 seconds worldwide. Come July 17, (the second day of Amazon Prime Day), you can shop this product on for just about $20 (compared to its regular price of $28).
This set from Vichy not only contains the essentials for an effective skincare routine, but the set is offered at an amazing discount on Amazon Prime Day. The bundle contains Minéral 89 Hyaluronic Acid Serum Moisturizer for moisturized, supple skin, Pureté Thermale Micellar Cleansing Water to remove makeup and cleanse, and LiftActiv Supreme Anti-Aging Face Moisturizer to reduce the signs of aging.
Whether you're a professional makeup artist who creates special FX looks or you just love a good full-coverage foundation, Mehron's Creamblend Stick is super creamy, super pigmented, and so full-coverage that you'll find yourself asking, "What's a pore?" The best part? You can shop these convenient, portable sticks on Amazon for 10 percent off using the code "MEHRON10" until 11:59 p.m. PT on Tuesday, July 17.
Amazon Prime Day also means shopping 30 percent off of major brands like Neutrogena, including their fan-favorite Hydro Boost Water Gel. For less than $20, you can get a product that leaves your skin unbelievably moisturized and supple delivered right to your doorstep.
If your idea of hitting the jackpot on Amazon Prime Day is snagging a mascara that will make it look like you're wearing lash extensions at a super-affordable price, then you're in luck. You can shop all Jane Iredale products at 20 percent off on Amazon Prime Day, including the PureLash Lengthening Mascara, which uses triple-length cellulose fibers to prolong lashes, without the flaking or smudging.
Amazon wouldn't be Amazon if they didn't give you the ability to shop the most innovative gadgets and tools that you didn't know you needed, right? Luckily, that includes beauty tools, too. On Amazon Prime Day, you'll be able to purchase KISS USA's Instawave Automatic Curling Iron with a deal of $15 off the regular price. The curling iron automatically wraps your hair around the barrel to create a flawless curl (or wave) with just the push of a button. What's more? The ceramic barrel provides major heat protection, so you can avoid damage while styling. So if you're someone who finds it difficult to style your hair with conventional curling irons, you'll want to take advantage of this Prime Day deal.