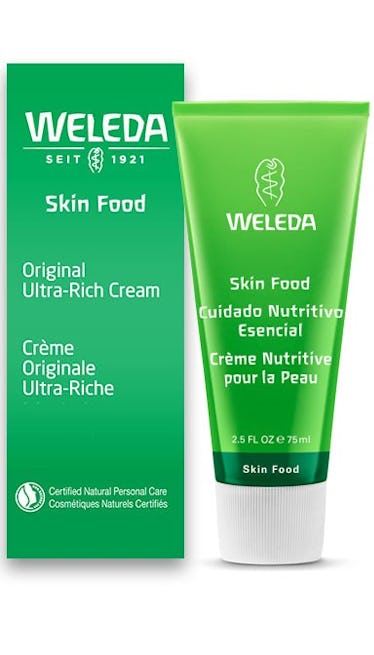 Tons Of Celebs Swear By This One Moisturizer & Lucky For Us, It's Less Than $20
Weleda
Almost every day, beauty lovers hear about a new moisturizer celebrities are raving about. The only problem is, a lot of the time, these products are not only hard to find, but they're typically also very expensive. Thankfully, however, if you're looking for that famous glow at an affordable rate, celebs swear by Weleda Skin Food to keep their skin looking red carpet ready. The best part is, not only does Weleda Skin Food boast a super rich and natural formula, but it's also multipurpose. Allure reported that superstar Rihanna adores the cream and often uses it before getting a manicure to rid herself of dry cuticles. Similarly, legendary actress Julia Roberts shared with InStyle that Weleda Skin Food is her go-to body moisturizer.
"I put it on my hands after I wash the dishes, and wind up putting it on my elbows and feet," she said. "Before you know it, I've squeezed this poor little green tube into a twist."
Spice Girl and fashion designer Victoria Beckham, who isn't afraid to indulge in some luxury beauty products from time to time, is also a huge fan of the moisturizer. In an as-told-to interview with Glossier's Into The Gloss, Beckham revealed that, while she adores higher end products like La Mer's Moisturizing Soft Lotion for her face, when it comes the rest of her skin, it's all about Weleda.
"What I love about it is that it's not particularly expensive and you can find it anywhere," she explained. "The formula is so thick and buttery."
Beckham even shared one of her best beauty hacks that she uses the product for. "When I have a tan, I'll mix it with coconut oil — the same you use to cook with — and cover my entire body with it," the mother-of-four revealed. "I suppose some people may not like the greasiness, but it helps me hold on to the color. And by the time I leave the house, I feel as if it's really sunk in. Like my skin's had a good drink. I go through so many of these … I wish they had bigger ones."
So what is it about this little green tube of goodness that celebs adore? It seems to be all about the formula. According to the brand's website, Skin Food contains no synthetic fragrances, preservatives, or mineral oils, but is packed with nourishing ingredients, such as beeswax, calendula, and chamomile. And because it's so accessible — in the literal sense and financially — celebrities aren't the only ones who use this product religiously. On DermStore, the product currently has a five-star rating, and users constantly praise Skin Food as "the best" moisturizer they've ever tried. Customers with dry skin especially love adding the product to their winter skincare routine.
But don't think that just because you have oily skin it won't work for you. Stephanie Danler, author of Sweetbitter, who shared that her face "can be oily," is also a huge fan of the cream. "My skin was flawless, luminous even, and not at all greasy," she wrote for The Strategist after testing out the lotion. "Weleda Skin Food is an all-purpose, completely natural moisturizer that I now keep in threes: bedside, car, and purse. Nary a chemical in sight, it's sunflower-seed oil, avocado oil, and pansy extract, and nurtures as it dissolves into your skin."
She also added that Skin Food is great for a multitude of skincare needs, outside of the ordinary. "I've used it to heal scrapes and burns while camping; to calm frizzy hair; and to spot-treat cuticles, elbows, and heels. On a recent trip to an arid, high altitude, I slathered it on my face day and night."
So if you're looking for the holy grail of skin creams, definitely give Weleda's Skin Food a try. Your glowing skin (and bank account) will thank you!