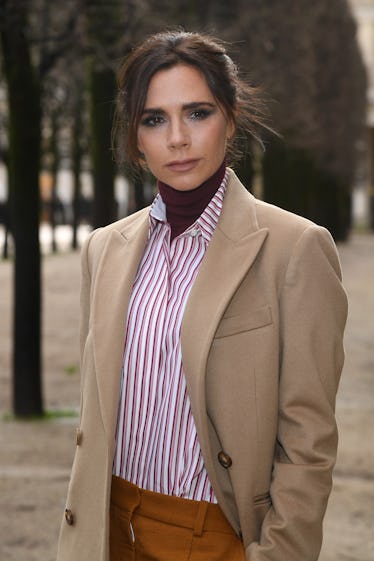 Victoria Beckham Shared Her Skincare Hack For Jet Lag, So Remember This For Your Summer Travels
Pascal Le Segretain/Getty Images Entertainment/Getty Images
From partnering with Reebok to make comfy shoes to now teaching us how to look our best when we travel, Victoria Beckham's skincare hack for jet lag proves that she's not only a beauty genius, but she's straight up looking out for us little people who won't be meeting a glam squad once we arrive to our destination.
According to the fashion designer, the Suqqu's Face Stretch Mask is the perfect addition to your carry-on bag, especially when you and your skin are exhausted from a long day of travel. According to Marie Claire U.K., each Suqqu's sheet mask contains 1.1 oz (33 mL) of serum, which is perfect for when your skin is dehydrated, especially after being on a plane for hours. According to the brand's website, the mask will also help to tighten skin and sharpen the jaw line. Of course, you use this mask like any other sheet mask. Simply lay the mask over your face, and let it rest for 10 to 15 minutes. Once you remove it, massage the remaining serum into your face.
Because this mask sounded too good to be true, I searched to see if it was available in the U.S., but sadly, Suqqu only sells its products in Taiwan, Thailand, the U.K., and Japan.
I guess that's no problem, though, when you're a jet-setting fashion designer like Beckham. But if you're dying to give it a try and don't have a trip booked to Asia or the U.K. anytime soon, the mask is available on Amazon for $168, so if you're looking to really treat yourself, here's your chance.
On the other hand, if you're on a budget, there are a number of different sheet masks you can use while traveling that will quench your thirsty skin and have your skin looking just right before you land.
This cost-effective mask is made from 100 percent natural wood-pulp fiber, which will allow your pores to fully absorb all the goodness of the oil-free formula. You'll get tons of moisture, without having to worry about clogged pores. Your skin will also love the mix of hydrating aloe vera and chamomile, the blend of hyaluronic acid and peptides that renew your tired face, and the Chinese licorice and vitamin B that will remove toxins.
If you're a frequent flyer, you definitely want to check out this Estée Lauder sheet mask, which the brand recommends you use once a week. To use, apply and leave on for 10 minutes. Once that time's up, gently massage any of the remaining formula into your skin. The beauty giant boasts that, with each treatment, users will get a surge of moisture. With two times the hyaluronic acid, the Advanced Night Repair Serum will leave skin looking youthful, without clogging pores. The PowerFoil barrier also helps the formula to penetrate pores quickly and lock in moisture.
If you're looking to get some serious bang for your buck, definitely try out Dr. Jart's Ceramidin Skin-Friendly Nanoskin Sheet Mask. Great for all skin types, this hypoallergenic mask is packed with natural fibers and ceramides. Using a soft emulsion formula, this product creates a moisture barrier on your skin that will give you a smooth finish without feeling sticky afterwards. It's also great to even out skin texture and is sulfate- and paraben-free. And with a 4.5-star rating, rave reviews, and a price most can afford, you can't go wrong trying this one out.
So whether you're looking to splurge like Posh Spice, or just want a basic sheet mask for your next trip to give your skin a healthy glow, there's something out there to meet everyone's needs. Happy travels!