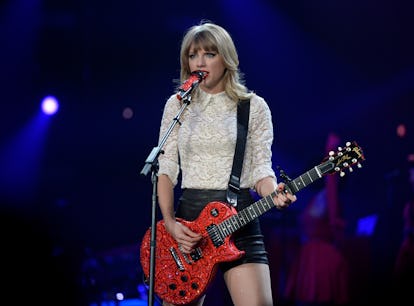 Here's What Taylor Swift's Red Songs Would Look Like As Rooms In Your Home
Hint: They're filled with easter eggs.
John Leyba/Denver Post/Getty Images
Swifties, the time has finally arrived: Taylor is re-releasing her most heart-wrenching album to date, Red, on Nov. 12. It's clear that Taylor was going through it when she wrote the lyrics to some of the best songs on Red, but she still managed to create such strong visual imagery in the midst of a bad break-up. So much so, in fact, that interior design company Modsy has created a series of Taylor Swift Red rooms that are inspired by the vibes of Tay's most iconic songs on the album.
Even before this T. Swift-inspired endeavor, Modsy has been an innovator in the design space. Not only does their website allow you to design a 3-D version of your own home, but they make it super easy to find and purchase the pieces you like. The same goes for these cozy-chic rooms based on Taylor Swift's Red album. Once you peruse the room online, you can click on the shoppable links to purchase the products you love as much as fans love All Too Well.
Speaking of the most iconic song on Red, Modsy designed a dining room based on All Too Well's lyrics. There's even an "open refrigerator" so you can "dance around the kitchen" like Taylor does with her beau in the song (cue sobbing). There are also Red-themed rooms for other album hits, and the best part is each and every one is full of easter eggs that Swifties are sure to recognize.
Ready for some Swift-inspired design inspo for your own home? Check out how Modsy brought the essence of Red to these four rooms.