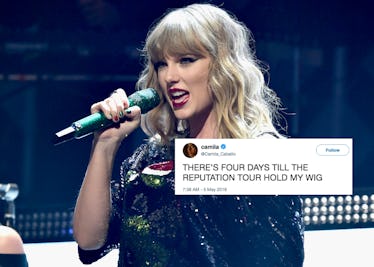 Taylor Swift Shared Secrets About Her 'Reputation' Tour & The Details Are Unreal
Theo Wargo/Getty Images Entertainment/Getty Images/Twitter
Taylor Swift's Reputation Stadium Tour officially kicks off tonight, May 8, in Arizona. For the 13 days leading up to the start of the tour, Swift has been posting behind-the-scenes looks and clues about the tour so fans can properly prepare their excitement for the experience. And these secrets from Taylor Swift's Reputation Tour will have Swifties everywhere freaking out and impatiently waiting for the tour to come to their hometown.
Swift has an obsession with the number 13 (she was born on Dec. 13, 1989, and used to draw the number on her hand for good luck during performances), so for the 13 days leading up to the Reputation Tour, she's been dropping huge hints about what fans can expect to see during the show. She started things off on April 25 by posting a photo of her at a dance rehearsal for the show saying, "13 days til Reputation Stadium Tour 💋." Before her 13-day countdown even started, she posted a photo of her and her tour dancers posing on a huge set of stairs that appears to be in their rehearsal space. She captioned the post, "Say hi to the reputation Stadium Tour dancers!! Been spending my days rehearsing with these overwhelmingly talented people. 28 DAYS TIL GLENDALE AZ." Now let's break down all of the clues in the Reputation Tour advent calendar.
The opening number is the favorite.
According to BuzzFeed, one of Swift's tour dancers revealed that the opening number for the show is their collective favorite to perform. "You're not going to be prepared for how you're going to feel," they said. "It's a must see."
Swift also revealed on her Instagram story on day 13 of the countdown that she'll be performing 10 songs from her old albums, although she didn't drop any hints about what those songs will be right then. "There will be 10 songs from previous albums," she said. "I'm really excited about playing stuff from Reputation, and really excited about playing songs from previous albums too." If you're a diehard "All Too Well," "Blank Space," or "Love Story" fan, you might be in luck.
There are three stages.
In one of her stories, Swift said there will be three stages in the show. One main stage which is apparently the biggest she's ever had, and two other stages that are set in the crowds and are about as big as her 1989 tour main stage.
Swift said on her Instagram story, "It's the biggest stage we've ever had. It's 110 feet tall and most of the B-stages that are out in the audience are pretty much just as big as the main stage was on the 1989 tour."
The main stage is 110 feet tall.
The days/last weeks leading up to any show are always spent running through the entire production day after day (assuming you've finished all the rehearsing you need to get done before you can run the show in its entirety), so Swift's rehearsals now just seem to be them drilling the entire show every day.
"Blank Space" may be a number.
Swift captioned an Instagram post, "Darling I'm a nightmare dressed like a.... girl rehearsing for her tour that starts in 9 DAYS." This could be a hint that she plans on singing "Blank Space" on the tour as one of the 10 songs from previous albums she'll be performing.
Swift has a "rocket sled."
Swift has been posting a lot of photos from both on top of and under the stage she's rehearsing on. She talked about what goes on under the tour's three massive stages on her Instagram story, revealing that she has a "rocket sled" that glides her from one stage to another.
She said on her Instagram story, "The rocket sled goes underneath the stage and takes me from one place really quickly to another. The stage is so big that we need that." But the video of her riding the rocket sled shows that it... does not move very fast. She could probably run from stage to stage faster than this sled moves, but hey, I'll give her tour points for the creative problem solving...?
The main stage is a big screen.
Swift also revealed on her Instagram story that the main stage is basically one giant screen that she and the dancers had to get used to performing on. She said,
It's got a video screen wall that's pretty seamless and continues down onto the floor. So everything that we walk on on the stage is a screen. It looks so cool from the upper sections of the stadium, but it's a little bit like walking on an optical illusion. We'll get used to it, I promise.
She betta!
"New Year's Day" will be performed during the tour.
Swift posted a photo of her sitting at the tour's piano on May 4 with the caption, "I want your midnights... 4 days til Reputation Stadium Tour 💕." "I want your midnights" is a line from the song "New Year's Day," so fans can assume they'll be hearing that song performed during the concert.
She also gave the piano its own shout out on her Instagram story, saying "She's so PRETTY."
The caption on the second photo of the piano on her story said, "I'm playing this piano on 2 songs in the set - 1 new and 1 old." Based on the "I want your midnights" hint, I think it's more than likely that the one new song she'll be playing on this piano is "New Year's Day." She has a huge repertoire of songs to choose from that could easily be played on the piano, so TBD on what the "1 old" song will be.
Taylor's meet-and-greet area is called The Rep Room.
One of the most elaborate parts of the tour isn't even part of the show. Swift revealed the Rep Room on her Instagram story, which will serve as a meet and greet room after the show for a handful of lucky fans who will be selected to go back stage during the concert.
The Rep Room is decked out in Taylor Swift memorabilia from floor to ceiling and features a giant snake sculpture in the center.
The Rep Room also has a throne in it because of course. Swift said of the room,
There's always a room that we have backstage because during the show we pick people to come backstage afterwards to say hi. On the Red tour it was called Club Red, and for the 1989 tour we had Loft '89. This time it's the Rep Room. We'll be looking in all kinds of different ways to find people so I can meet them which I'm really excited about.
Try and get yourself noticed at the shows, Swifties! It just might mean you get to meet Swift once the show is over.
The rest of Swift's Instagram stories leading up to the tour have showed some sneak peaks into her costumes (most of theme involving sparkles, naturally), her various microphones she'll be using throughout the tour (there are seven and they're all shiny and elaborate), and she also has newspaper-themed confetti that says her name all over them that will apparently fly all over the audience.
Swift isn't messing around with these mics.
And last but not least, according to BuzzFeed, there will be a Reputation Tour rehearsals blooper reel playing on the screens in the stadiums as fans trickle out at the end of the show. Because if there's one thing Swift wants to make clear with this album, it's that she's down to make fun of herself.
One day before the tour starts: Swift posts a photo of her in Arizona where the first show on the tour is taking place.
She posed next to a giant cactus and said, "Fact: I've never been more excited about a tour than I am about this one. And it starts TOMORROW. Also, not even remotely tour related, but today I met a cactus. 🌵"
Get ready, Swifties. The Reputation Stadium Tour begins tonight!