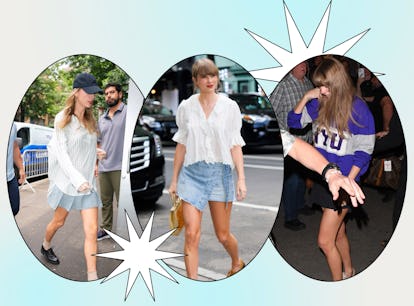 How To Recreate Taylor Swift's Collegiate Style For Back-To-School SZN
No need to *cry in broke college student* to get the look.
We may receive a portion of sales if you purchase a product through a link in this article.
Class is back in session, y'all. Dorm decor is anew, sororities are initiating new pledges, and back-to-school style is in full effect. While you could certainly take a few fashion cues from Gen Z cool girls like Emma Chamberlain and Charli D'Amelio for your fall 2023 'fits, you may also want to consider, let's say, the biggest pop star in the world. Taylor Swift's style evolution proves that she's went through pretty much every era: country sweetheart, rebellious rock star, cottagecore queen, you name it. In the months that followed her Midnights album release, though, she leaned heavily into the traditional yet chic collegiate aesthetic. So, you're not on your own, kid — you've got T-Swift's wardrobe to get plenty of college couture inspo from.
Collegiate style describes a type of look where clothes are reminiscent of varsity clothing associated with college campuses or business-casual outfits you might find in an academic or classroom setting. The Grammy winner has been frequently spotted rocking this scholastic vibe ever since she received an honorary doctorate of fine arts from New York University in 2022. Buttoned-up collared shirts, loafers, and even NYU merch have been sighted on the "Karma" singer as recently as this past spring, all of which definitely scream academia.
While Swift is most likely wearing pieces from more expensive designers, you shouldn't let that stop you from trying to recreate the preppy looks yourself for school. Below, you'll find five of the singer's collegiate ensembles, along with inexpensive items you can use to recreate them on a student's budget.
For Hanging Out With Friends On The Quad
While not every college campus has a quad, like TayTay's honorary alma mater, NYU, most schools have a common space where a lot of members of the student body hang out. If you're meeting up with a friend or heading there to study, go for a 'fit like Swift's — which features a red floral corset top and black shorts — that is cute yet comfy.
For A Class Presentation
If you're looking for a nice but not super formal outfit to wear for a class presentation, Swift's white blouse, denim skort, and tan loafers are classique. ASOS has a great option for the loose white top and Steve Madden has brown loafers that will make your outfit equal parts stylish and comfortable.
For Meeting With Your Professor
It is definitely a must to meet with your professor for simple introductions or class questions during your school semester. Dress to impress in a collared button-up, pleated skirt, and a pair of black lace-up loafers.
For Grabbing Coffee Between Classes
Meeting up with someone for coffee after class? Follow T-Swift's lead with a pair of cutoff black denim shorts, a short-sleeved white button-up, a pair of sandals, and a casual brown shoulder bag.
For A Longgg Class Period
College classes can often be hours long. While you can absolutely dress up for these classes, finding a middle ground between cute and comfy is a great option. Like T-Swift, go for a comfy college sweatshirt paired with a skirt and a cute pair of oxford shoes. The perfect balance of dressy meets relaxed.