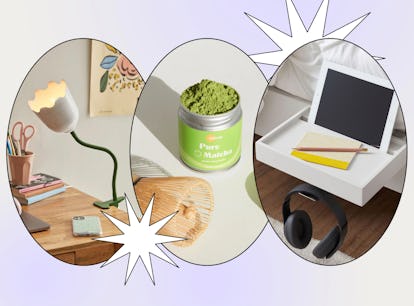 28 Back-To-School Must-Haves For College Students
The Elite Daily team shares the tech, decor, and organization items they swear by.
We may receive a portion of sales if you purchase a product through a link in this article.
It's officially time to trade in your poolside hangouts and lazy beach days for crowded classrooms, heavy textbooks, and hours of homework in your dorm room. Whether you're a freshman dipping your toes into college life for the first time or a seasoned senior starting your final year, going back to school can be stressful — especially when you're putting together a college shopping list with all the dorm decor, school supplies, and basic appliances you'll need.
When you're not in classes or out socializing with friends, you'll spend the majority of your time hanging out in your dorm room, which is why making your space feel like a home away from home with practical organization products and TikTok-approved home gadgets is a must. You'll also want to scoop up the best back-to-school tech products that'll upgrade your study game, find the perfect bag for your laptop, and scope out dorm decor picks that are functional yet add personality to your space.
Below, Elite Daily's team of editors and writers rounded up their back-to-school picks that will make dorm life — and your college experience — much easier.
Dorm Organization Hacks To Store All Your Stuff
A Makeup Organizer To Channel Your Inner Alix Earle
When you have limited storage on your dresser or in your bathroom, a storage organizer for your makeup and skin care is a must. It looks super aesthetic, plus it makes it so easy to find your fave products when you need them. — Lara Walsh, associate editor, experiences
Space-Saving Hangers That'll Help You Make The Most Of Your Small Closet
My freshman year, I had to share the tiniest closet I've ever seen with two other roommates, so I relied heavily on space-saving hangers. These allow you to hang multiple shirts on one hanger, so you're taking advantage of the vertical space you do have. — Rachel Chapman, staff writer
A Bedside Shelf To Store Your Phone When You Sleep
My bed in college was super high, which was a problem because I'm super short. So, for me to get anything that was not on or attached to my bed took serious effort. One thing that helped me avoid this annoying issue was a bedside shelf, where I could place my phone (no getting lost in the sheets for me), headphones, drinks, and other go-tos. — Kaitlin Cubria, deputy editor, experiences & style
An Ottoman That Doubles As Storage
Multipurpose products come in clutch when you're in college, especially when one of those purposes is storage. An ottoman that you can fold up, sit on, *and* fill with all your necessities and tchotchkes? The ultimate 1-2-3 combo. — Kaitlin Cubria, deputy editor, experiences & style
A Cute Shower Caddy For Toting Your Stuff Back & Forth
Most college campuses have communal floor bathrooms or at least shared bathrooms among suitemates, so chances are you'll have to store some of your toiletries in your room. To keep them organized and grouped together for toting back and forth between the bathroom, use a caddy like this one from Crate & Barrel. The handle makes it easy to carry around while the different compartments keep all of your products tidy. — Jordan Murray, lifestyle editorial intern
Backpacks & Totes To Carry Around Campus
A Colorful Tote To Pack Your Books In
A carry-all tote bag is an amazing bag to bring on campus whether you're headed to class or studying at a coffee shop. All you have to do is throw in your laptop, school supplies, and other essentials like lip balm, and you're good to go. This Ubuntu tote is the perfect size and the cute pattern adds a fun flare to any outfit, but is also super versatile because of the blue and white combo. — Jordan Murray, lifestyle editorial intern
A Backpack With A Padded Laptop Compartment
If you're looking for a simple and colorful backpack to wear to and from class, this is a great choice, There is a padded laptop compartment for your computer inside with an additional pocket in the front. — Rachel Chapman, staff writer
Back-To-School Tech Essentials For Studying & Dorm Life
A Lightweight Laptop With Amazing Battery Life
Worth the splurge: I'm obsessed with the new 15-inch MacBook Air. It's super thin, sleek, and lightning-fast. Plus, the battery will last you 18 hours, so you won't even need to bring it with you to classes if it's fully charged in the morning. It's also got a fanless design, so if you're pulling an all-nighter, you won't have to worry about waking up your roomie because your laptop was breathing too loudly. — Michelle Toglia, executive editor
A Polaroid Camera For Making Memories
Having a Polaroid camera is the best way to capture fun memories with new friends. This Instax Mini 12 lets you print out the pics right away, which is great for giving away to your dormmates or new BFFs. — Lara Walsh, associate editor, experiences
A Vanity Mirror For Making Your Own GRWM Videos
Even if you aren't on the GRWM side of TikTok, a portable light-up mirror for your desk is a must. It makes it so easy to see how your makeup looks in different lighting, and you can move it out of the way whenever you need to use your desk for studying. — Lara Walsh, associate editor, experiences
A Lightweight Kindle To Swap Out Your Heavy College Textbooks
The majority of college classes require textbooks, and having to carry those around campus is not only annoying but can put a lot of strain on your back. To make having access to these books easier, try downloading them on a device. The Kindle Paperwhite is super light to carry around making it easier to access your course materials or personal reading while also potentially saving money, since e-books usually are much cheaper. — Jordan Murray, lifestyle editorial intern
A Portable Charger That'll Keep Your Phone Charged All Day & Night
Portable chargers are perfect for any college student who has a commute or has to spend any time away from wall outlets. They come in handy, especially during emergencies, and they make it easier to answer emails and finish assignments on the go. — Chelsea Jackson, staff writer
A Portable Fan That'll Keep You Cool Walking To Class
It's hot, and I've been seeing a lot of these portable fans being sold this summer. They're great to use when you're out walking to class or even when you're back at your dorm. They're also battery-operated, so you don't have to worry about keeping them charged. — Chelsea Jackson, staff writer
Noise Cancelling Earbuds That Match Your Nails For A Chic Study Sesh
There's something so satisfying about seeing your accessories match, so I was obsessed when I heard about this limited edition Olive & June nail polish and press-on bundle that's inspired by Beats earbuds in Cosmic Silver and Cosmic Pink. I have the wireless earbuds and press-ons in sleek Cosmic Silver, which also matches my favorite necklace — a bonus. If you're new to press-ons, these are so easy to put on — or you could try the long-lasting polish for the same color. It's the ideal combo for when you're cramming in the library and need to tune out the noise but want to be stylish too.
College Kitchen Tools For Cooking With Ease
A Hot Pot For Late-Night Cravings
An electric hot pot is a game-changer for late nights when you want something quick like instant ramen but the dining halls aren't open. You can plug this appliance in anywhere, and you'll save so much money on takeout. — Lara Walsh, associate editor, experiences
A Dorm Mini Fridge To Store Drinks & Snacks
Whether you're craving a midday cold brew or you just want somewhere to put your leftovers from dinner, having a mini fridge by your bed is so convenient. You can store snacks from the dining hall, or even put some ready-to-eat groceries in there. — Lara Walsh, associate editor, experiences
An Easy Matcha Kit That Takes Up No Room
With early a.m. classes, you may not have time to grab a matcha latte at your favorite cafe before class. Luckily, this kit takes up no countertop or desktop space (we all know how little real estate you're working within a dorm room — it was a miracle your mini fridge even fit). With powder and a traditional bamboo whisk, it's everything you need to make an at-home latte that'll power you through a full day of classes. — Michelle Toglia, executive editor
A Compact Coffee Maker To Get You Through A.M. Classes
Having a Keurig in college was a game-changer for early classes when I didn't have time to go to the dining hall but I also didn't want to spend $$ at Starbucks. You'll end up saving so much money and time with this single-serve coffee maker. — Lara Walsh, associate editor, experiences
Dorm Decor & Furniture For Comfortable Living
A High-Quality Lap Desk For Doing Homework On The Couch
My lap desk was one of my most-used possessions in college. If you're a lazy girl and love doing homework or watching TV in bed or on the couch, this is a must-buy. — Lara Walsh, associate editor, experiences
A Portable Clip Lamp For Reading In Bed
This cute clip lamp is portable, which makes it super convenient. You can clip it to the side of your desk when you're studying and then transfer it to your bed stand when you're reading or doing homework in bed. — Lara Walsh, associate editor, experiences
A Lamp To Add Personality To Your Bedside Table
It's hard to customize your dorm room when you have a pretty small shared space with someone else. A tableside glass lamp like this cute one from Urban Outfitters is an inexpensive way to add some personality to your side of the room. — Lara Walsh, associate editor, experiences
String Lights That Double As A Hanging Collage Of Friend & Family Pics
I was super homesick my first year of college, and something that helped was putting up a ton of pictures of me with my family and friends back home. While a collage wall is always a great idea, these string lights with clips allow you to add both light and photos to your walls in a cute way. — Rachel Chapman, staff writer
Wall Decals For Switching Up Your Decorations
My roommate and I used to love decorating our dorm for every season or holiday. To make things super easy, we used to get decals for our windows and walls that easily peeled off without leaving any residue. If changing things up every few weeks isn't your vibe, you could still find really cute options like glittery stars practically made with astrology lovers in mind. — Kaitlin Cubria, deputy editor, experiences & style
A Mattress Topper That'll Make Your Dorm Bed More Comfortable
Dorm beds are notoriously uncomfortable, and everyone on my floor freshman year quickly purchased a topper within a few weeks of moving in. This mattress topper has a lot of rave reviews about how comfortable it is, plus it's so convenient that it ships to your door. — Lara Walsh, associate editor, experiences
A Laptop Riser That'll Prevent Neck Strain
If you've ever gotten neck pain from looking down at your computer too long, you need a laptop riser. It's an aesthetic yet inexpensive solution that'll make your laptop eye-level, plus it's great for added storage on your desk. Pro tip: It's also great if you want to take any online workout classes in your room and need your screen to be a little elevated. — Lara Walsh, associate editor, experiences
A Room Divider That Doubles As Extra Storage
It's tough not having any privacy when you're in a shared room. If you need a little space from your roommate, this room divider is a cute way to give yourself some privacy — plus the hooks on each side make it an extra storage option for the both of you. — Lara Walsh, associate editor, experiences
Fragrance Plug-Ins That'll Make Your Dorm Room Smell Heavenly
Some dorms are weird about candles, but you can still make sure your room is always the best-smelling one on your floor with a fragrance plug-in. The best part is you can swap out scents for seasons, and you can customize how strong the scent is. Some of the wallflower plug-ins at Bath & Body Works also double as a night light. — Lara Walsh, associate editor, experiences
An Aesthetic Planter For Adding Some Green To Your Dorm Room
Breathe some life into your dorm room by adding some potted plants in cute planters to your space. Picking out a colored or patterned planter can add some more personality to the room while acting as decor. — Jordan Murray, lifestyle editorial intern