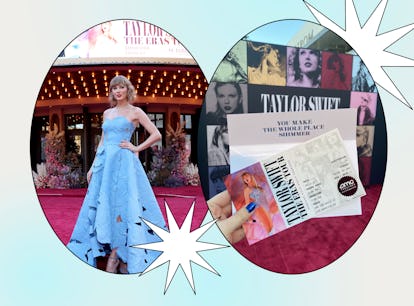 What Fans Should Know About Taylor Swift's Eras Tour Movie
So, make the friendship bracelets, take the moment, and taste it... at an AMC theater near you.
John Shearer/Getty Images Entertainment/Getty Images/Rachel Chapman/Elite Daily
Swifties, the time has come: Taylor Swift: The Eras Tour movie is in theaters. That means you've got to break out your friendship bracelets, don some bejeweled 'fits, and grab popcorn in an Eras Tour bucket, because this is our Avengers. To help you better prepare for the two-hour and 48-minute long masterpiece, here's what fans should know about Taylor Swift's Eras Tour movie.
I attended the premiere in Los Angeles on Oct. 11 and am here to tell you that the Eras Tour movie is a cinematic event that felt like going to an actual show. It doesn't matter if you're seeing it in the largest theater in New York City or the single-screen venue in your hometown, Swifties will want to turn up and turn out. It's as if we've all won the Great War against Ticketmaster, and are able to see the Eras Tour with ease — and without breaking the bank.
There are some slight differences between the movie and the live show, though, like changes to the set list and theater etiquette that fans will want to take note of before going. From what to wear to details to look out for, here's how to get ready and ensure you have the best day.