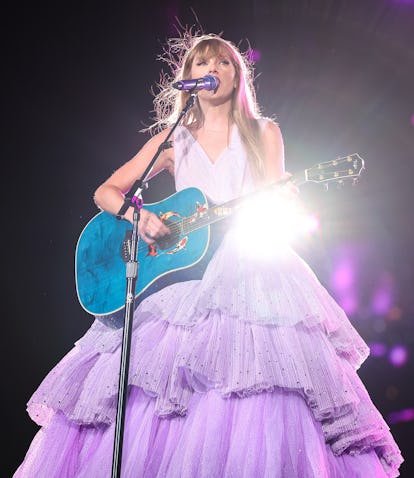 Taylor Cut These 6 Eras Tour Songs From Her Movie & Swifties Can't Deal
Why did she have to do "Long Live" like this!?
When the runtime for Taylor Swift's Eras Tour concert doc was revealed, Swifties knew something was up. How can a concert that famously lasts three hours and 15 minutes be condensed into a movie that's only two hours and 49 minutes? The math just wasn't mathing, and fans started to panic that some songs might get the chop. Sadly, those fans were right.
After Taylor Swift: The Eras Tour had its big L.A. premiere on Oct. 11, viewers took to social media to lament several fan-favorite tracks that were not included in the movie. The Eras Tour's 44-song set list (which actually grew to 45 songs eventually) is obviously packed with hits, so much so that they couldn't all fit in one movie.
The set list also changed a few times depending on which openers were present, or any special announcement Swift wanted to make on a particular date. And of course, there were also the ever-changing "surprise songs." As fans had guessed, the two surprise songs that made it into Taylor Swift: The Eras Tour were "Our Song" and "You're on Your Own Kid."
But several other staples of the Eras Tour setlist weren't so lucky. The following Swiftie fave performances were not shown at all in the movie:
"The Archer"
"Wildest Dreams"
"Cardigan"
"Long Live"
"'Tis the Damn Season"
"No Body, No Crime"
A few of these cuts were more shocking than others. Swift only performed "No Body, No Crime" a handful of times on tour, whenever HAIM was the opening act. Whenever she did perform the collab, it would replace "'Tis the Damn Season" on the set list.
"Long Live" was also not the most consistent song on the Eras Tour set list. It was added towards the end of the North American tour leg after Swift announced her 1989 re-release. But because it was such a huge favorite among fans, the song wasn't entirely cut from the concert film. It does play during the end credits.
"The Archer," 'Wildest Dreams," and "Cardigan" were the most surprising omissions, given that they were staples in the tour's set list.