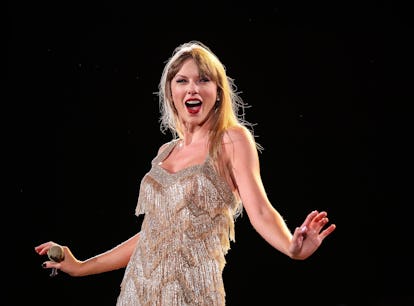 Swifties Are Theorizing These Surprise Songs Will Be In The Eras Tour Movie
Hector Vivas/TAS23/Getty Images Entertainment/Getty Images
By now, every Taylor Swift superfan knows the Eras Tour set list by heart, but there's still one big question about the upcoming concert film: What will the surprise songs be? Every night of her tour, Swift surprised the audience by performing two songs from her catalogue that aren't normally on the set list. Thanks to confirmation about when the movie was filmed, as well as some Easter eggs that fans have picked up, Swifties have a few solid theories about which of these special performances will be included in the concert film.
Swift announced Taylor Swift: The Eras Tour, a theatrical release capturing her 2023 North American tour, on Aug. 31 with an explosive trailer. In fitting with Swift's lucky number, the movie will hit theaters on Oct. 13 and promises to bring the Eras Tour experience to everyone who didn't get a chance to catch the career-spanning concert live. And yes, that includes the show's main gimmick: the surprise songs. Because the movie was filmed during three nights in Los Angeles from Aug. 3-5, there are only six possible surprise songs that could be featured: "I Can See You," "Maroon," "Our Song," "You Are in Love," "Death by a Thousand Cuts," and "You're on Your Own, Kid."
The one that stands out as the biggest possibility is "Our Song," due to a statement Swift makes in the movie's trailer. "We are going to go on a little adventure together, and that adventure is going to span 17 years of music," Swift tells the crowd. Since the usual Eras Tour set list doesn't include any music from Swift's self-titled debut album, which was released 17 years prior to the tour, it sounds like she's referencing a performance of the Taylor Swift single "Our Song."
Other Swifties are looking at statistics to try to pin down what the featured tracks will be. Both "Maroon" and "You're on Your Own, Kid" were played more than any other surprise song on the tour so far, which could be a clue that they will be part of the movie.
Or, maybe the film will treat fans to a medley of all six surprise songs. Swifties won't know for sure until Taylor Swift: The Eras Tour hits theaters on Oct. 13.