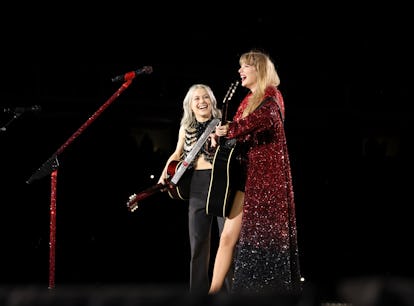 Taylor's Eras Tour Set List Gets An Extra Song When Phoebe Bridgers Is The Opener
John Shearer/TAS23/Getty Images Entertainment/Getty Images
In case you thought 44 songs just wasn't enough, Taylor Swift upped her Eras Tour set list to 45 songs, but only on a few specific dates. And those dates are the ones where Phoebe Bridgers is on the lineup as an opener. Bridgers finally made her Eras debut on May 5 at the Nashville concerts, and not only did she bring out some exciting surprise guests during her own set, she also returned to the stage during Swift's set to perform their duet "Nothing New."
Bridgers pulled out all the stops for her Eras Tour opening set list, which includes her own solo hits as well as beloved songs from her supergroup boygenius. Prior to her Eras debut on May 5, fans speculated about whether Bridgers would bring her fellow boygenius band members on stage at all, and thankfully, she did! Julien Baker and Lucy Dacus joined her to perform the hit boygenius single "Not Strong Enough," as well as "I Know the End." It's unclear if Baker and Dacus will be able to join Bridgers for all her Eras dates (Bridgers is scheduled to open every show in May), but hopefully they'll pop up again from time to time.
The boygenius segment was the icing on the cake of Bridgers' opening set. Before that, she performed her solo hits like "Kyoto" and "Motion Sickness." Check out the set list below:
It should be noted that Bridgers' set list does fluctuate a bit. On her second night in Nashville, Bridgers added "DVD Menu" to the list, and replaced "Not Strong Enough" with "Cool About It."
And the surprises didn't stop there. Bridgers became the first Eras Tour opener to join Swift on stage during the main concert, where they performed their duet from Red (Taylor's Version), "Nothing New." After they repeated the performance the next night, fans confirmed that Swift had added "Nothing New" to her set list for the dates when Bridgers was present.
So if you're one of the lucky ticketholders who's attending the Eras Tour before Bridgers' final show as an opener on May 28, you can look forward to a very special extra song.