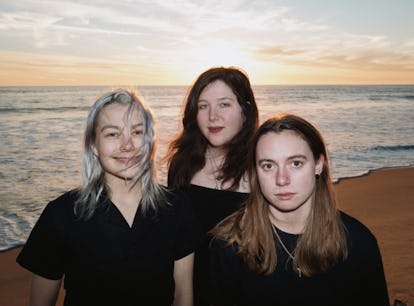 If You Love Phoebe Bridgers, Add Boygenius To Your Playlist ASAP
The group is kicking off '23 on a high note.
Harrison Whitford
Need a new band to listen to in 2023? Look no further than boygenius. The indie-rock group — made up of Julien Baker, Phoebe Bridgers, and Lucy Dacus — debuted in 2018 with their self-titled EP, boygenius. Now, after a five-year hiatus, the trio is back with three new singles, which will be featured on their upcoming debut album, the record. Add them to your list of artists to watch this year.
What does boygenius mean?
In an October 2018 interview with Vogue, Bridgers explained the group's name is a reference to boys who grow up being told that "their ideas are genius," while girls aren't given the same treatment. "Men are taught to be entitled to space and that their ideas should be heard because they're great ideas and women are taught the opposite. That they should listen instead of speak and all that stuff," she said.
How did boygenius form?
In that same Vogue interview, the trio revealed they formed by "accident." Since all three members belong to the indie music scene, they were often in the same circles. Dacus said she became friends with Baker after opening up for her in Washington, D.C. a few years ago. "We just kept in touch over email, constantly recommending books to each other, seeking each other's wisdom, and she has always told me about Phoebe," Dacus said. "Phoebe and I only met this year and it was very quick friendship."
Baker added that since they would all run into each other on tour, "it seemed obvious that we would perform together." So, the trio decided to collaborate. At first, they were just meant to record a few songs, but the end result was obviously so much more. "It was just like, 'Oh, we'll do a cover song and maybe one original song for this thing,'" Bridgers said. "And then it turned into like, 'Oh sh*t, our dynamic is so sweet together.'"
When will boygenius drop their first album?
Despite being together for five years, boygenius has yet to drop their first full-length album. Their aptly titled debut, the record, will release on March 31. The project will feature the singles "$20," "Emily I'm Sorry," and "True Blue," all of which boygenius dropped on Jan. 18. Pre-order the record here.
Check out the album's official tracklist below.
Without You Without Them
$20
Emily I'm Sorry
True Blue
Cool About It
Not Strong Enough
Revolution 0
Leonard Cohen
Satanist
We're In Love
Anti-Curse
Letter To An Old Poet
What is the meaning behind "Emily I'm Sorry"?
According to a press release, "Emily I'm Sorry" was the first track boygenius recorded on the record. The track appears to tell a story about a relationship that's crumbling. "She's asleep in the backseat looking peaceful enough to me, but she's wakin' up inside a dream full of screeching tires and fire," Bridgers begins the song, which uses the metaphor of a car crash to describe a relationship that's heading south.
This is only emphasized in the second verse, when Bridgers sings about being in a nightmare and waking up to a not-so-different reality. Because of this, Bridgers reminisces over better days. "Just take me back to Montreal/ I'll get a real job, you'll go back to school," she sings. "We can burn out in the freezing cold and just get lost."
The chorus is about knowing a relationship isn't good for you anymore despite wanting to remain loyal to your partner. "Emily, forgive me, can we make it up as we go along? I'm 27 and I don't know who I am but I know what I want," the trio sings.
How many songs does boygenius have in their discography?
Since Baker, Bridgers, and Dacus are also busy working on individual projects, they've only released a handful of songs since they formed in 2018. Their 2018 EP, boygenius, contains six songs: "Bite The Hand," "Me & My Dog," "Souvenir," "Stay Down," "Salt In The Wound," and "Ketchum, ID."
In July 2020, boygenius also dropped a second EP, titled boygenius (demos), which consisted of three demo recordings from their debut EP. According to NME, the songs were only available for purchase for 24 hours and proceeds were donated to various charities. If you don't include their demo tracks, then boygenius has released a total of nine songs since their debut.
Which artists are similar to boygenius?
If you're loving boygenius and want to listen to similar music, check out indie artists like Snail Mail, Soccer Mommy, Haley Heynderickx, Holly Humberstone, and Mitski, all of which can be found in the boygenius Radio playlist on Spotify.