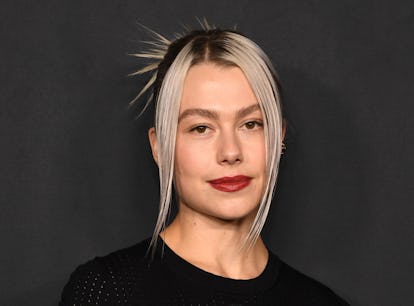 Here's Why Phoebe Bridgers Fans Think She Left Paul Mescal For Bo Burnham
These photos are... something.
Jon Kopaloff/Getty Images Entertainment/Getty Images
Phoebe Bridgers has put her fans through an emotional whirlwind at the start of 2023. Just as soon as there was talk of the singer potentially getting engaged to her boyfriend Paul Mescal, the gossip took a dark turn, as fans began to suspect the couple had privately broken up. As if that wasn't enough drama, new photos of Bridgers looking super buddy-buddy with comedian Bo Burnham have sparked new romance rumors. At this point, the whole internet is wondering if Phoebe Bridgers and Bo Burnham are dating, so let's go over how we got to this point.
The complicated love triangle theories revolving around Bridgers, Mescal, and Burnham is the perfect storm of social media obsession. Bridgers and Mescal's relationship was famously sprung from Twitter and Instagram, as their flirty online exchanges in 2020 soon led to an IRL relationship. That springboard was enough to make them the internet's favorite couple for a few years, and fans erupted with excitement when rumors arose in early November 2022 that the two had gotten engaged. However, the very next month, it started to look like they had called it quits.
In December, the gossip page DeuxMoi started reporting Bridgers and Mescal had broken up, which Bridgers herself seemed to hint at in some eyebrow-raising new song lyrics. Her part in SZA's "Ghost in the Machine," released on SZA's SOS album on Dec. 9, detailed a messy breakup in a hotel lobby. Bridgers then revealed to NME that she had written those lyrics just days before the song's release, prompting even more breakup rumors.
As all this was happening, fans started to notice Bridgers growing very close with Burnham. A photo of her kissing 1975 frontman Matty Healy with Burnham's arms around her posted on Dec. 12 started all the chatter, and then she was spotted at Burnham's comedy show on Dec. 19. The most recent photos to break the internet were candid shots of Bridgers and Burnham boarding a flight together at Los Angeles Airport on Jan. 13.
Although the internet is convinced Bridgers and Burnham have start some sort of romance, there hasn't been any indication that Burnham has ended things with his longtime girlfriend Lorene Scafaria. Burnham began dating the filmmaker in 2013, but since the two are incredibly private about their personal lives, they've rarely ever opened up about their relationship to the public in their decade together.
Neither Bridgers, Mescal, nor Burnham have addressed any of these rumors, but everyone on the internet will certainly be ready if they ever do.