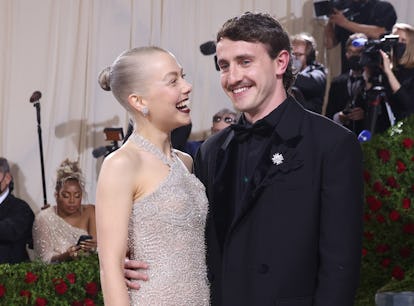 Are Paul Mescal & Phoebe Bridgers Engaged? Here's The Latest
They're as private as it gets.
Taylor Hill/Getty Images Entertainment/Getty Images
They may have sparked their romance on Instagram, but Paul Mescal and Phoebe Bridgers are a notoriously private couple. In their two years as partners, the two have kept their love life to themselves, so much so that fans had been wondering for months if they secretly got engaged and decided to never announce it. The speculation reached a fever pitch in early November after a newspaper claimed the celeb couple was engaged, but then it retracted the statement and neither Mescal nor Bridgers have confirmed it. So, are Paul Mescal and Phoebe Bridgers actually engaged, or have they been trolling everyone? Here's why the rumors aren't going away.
Reports that Mescal and Bridgers took the next step in their relationship blew up after The Guardian's Nov. 6 profile of Mescal initially claimed the pair was engaged. The eyebrow-raising detail was hidden in the middle of the story, but it was more than enough to send fans into a frenzy. After the actor spoke about his decision to quit social media in 2021, a parenthetical claimed that he is now engaged to Bridgers, whom he met back when he was very active on IG. However, that statement was then amended, with this correction added: "An earlier version said that Paul Mescal and Phoebe Bridgers were now engaged; this had been reported elsewhere but has not in fact been confirmed by the couple." So once again, fans of the couple were left high and dry with only rumors of a secret engagement, and no confirmation.
It's not a new feeling for anyone who's been tracking Mescal and Bridgers' relationship. There have been rumors swirling that they have been secretly engaged for months. Back in April, tabloids began reporting that Bridgers was referring to Mescal as her fiancé throughout Coachella weekend. Bridgers notably didn't deny the truth of the reports when she addressed them in a The Guardian interview in June, but also declined to disclose her relationship status.
Mescal and Bridgers' relationship timeline has been like a modern fairytale. The two got to know one another by flirting via Twitter and Instagram during the thick of global lockdown in 2020. When it started to become safe to travel again, they were spotted hanging out around Ireland together, and Mescal even starred in Bridgers' 2020 music video for her song "Savior Complex." They finally went public with their relationship by attending a red carpet event arm-in-arm in November 2021.
Given their penchant for privacy, it should come as no surprise they've also likely been keeping their supposed engagement from fans. But now it seems to be a pretty open secret — even if neither Mescal nor Bridgers has confirmed it themselves — so everyone can start fantasizing about what their low-key, super-romantic wedding is going to look like. I'm picturing a wedding dress decorated with skeleton bones.
Correction: This story has been updated to reflect changes in the corrected version of The Guardian's Paul Mescal profile.
This article was originally published on