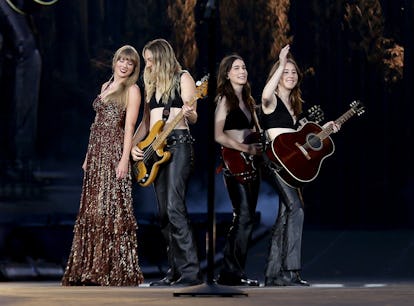 Taylor Adds An Extra Song To Her Set List For All Her Shows With Haim
The U.S. leg of the Eras Tour is ending with a bang.
Mat Hayward/TAS23/Getty Images Entertainment/Getty Images
Summer is coming to an end, and so is the U.S. leg of the Eras Tour, but not without a special surprise for its sendoff. Taylor Swift's massive tour finally welcomed its final opening act at the July 22 concert in Seattle, Washington, and Haim didn't just bring their own can't-miss set list of hits — Swift also added an extra song to her own already-massive set list to perform with her longtime buddies. Since Haim will serve as the opening act for all of the remaining Eras Tour shows in the United States, all future concertgoers can expect a little something extra after Swift takes the stage.
The Eras Tour doesn't just boast a 45-song, career-spanning set list, it also cycles between nine different opening acts of artists that are important to Swift. Haim was the last supporting act to join the tour, and they're also one of the most exciting bands to be part of it. Not only is Swift's close friendship with the three sisters very well-known, but they've famously collaborated before. And sure enough, just as fans had been hoping, Swift made sure to include her song with Haim, "No Body, No Crime," in her main set list, bringing out the band to perform it together on raised platforms. The collab is expected to be part of all the rest of the tour's U.S. shows, since Haim is opening throughout the final night on Aug. 9.
Swift has previously only added a song to her main Eras Tour set list for one other opener: Phoebe Bridgers. At the shows when Bridgers was opening for Swift, she came onto the stage to sing her duet "Nothing New" with Swift.
But "No Body, No Crime" isn't the only reason to be pumped to see Haim at the Eras Tour. The band's set list for their opening act consists of six fan-favorite Haim songs:
"Now I'm In It"
"My Song 5"
"Want You Back"
"The Wire"
"Gasoline"
"The Steps"
While Haim is closing out the U.S. leg of the Eras Tour, the show isn't even close to ending. Swift will travel internationally throughout 2024 with opening acts Sabrina Carpenter and Paramore.