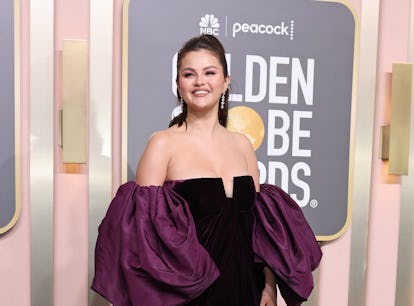 How The Return Of Taylor's 4th Of July Party Squashed The Latest Selena Dating Rumor
So much for the IRL Selena + Chef.
Amy Sussman/Getty Images Entertainment/Getty Images
Swifties have had a lot to celebrate at the beginning of July. Not only did Taylor Swift drop Speak Now (Taylor's Version), complete with a brand new music video, but she also revived her most iconic party ever after having canceled it for the past seven years. The return of Swift's Fourth of July party was already a big deal, but it became even bigger as more details came out, which shed some much-needed light on Selena Gomez's dating life. The squadded-up event happened in the midst of rumors that Gomez was starting something with The Bear star Jeremy Allen White, but it's clear from the party captions that those rumors aren't very serious.
As if Swifties weren't experiencing enough blasts from the past recently, Swift hit them with an unexpected treat on July 7 by sharing photos from her first Fourth of July celebration since 2016. For years throughout the early 2010s, these summer hangs were iconic among fans and exemplified the height of Swift's squad era. They delivered iconic moments in the fandom, from unforgettable photo shoots to that time Tom Hiddleston wore an "I [heart] T.S." tank top. So when the parties stopped in 2017, fans were disappointed.
But now, they're back. Swift posted photos from her 2023 Fourth of July celebration a few days after the holiday, revealing she spent the time with famous pals Selena Gomez, the Haim sisters, Ashley Avignone, and Sydney Ness.
It was Swift's caption that was particularly telling. She described her squad as "local neighborhood independent girlies," a possible hint that they're all single. Este Haim doubled down on this clue when she re-shared the pics on Instagram, writing, "single summer never looked so good."
Obvi, everyone already knows Swift is unattached after her complicated breakup with Matty Healy in June, but the singles vibe was a bit surprising for people who'd been paying attention to Gomez's love life. At the end of June, a Deuxmoi blind item suggested Gomez was starting to date Jeremy Allen White after they met shooting Vanity Fair's Hollywood Issue cover at the start of the year.
From Swift and Haim's descriptions of the party, though, it sounds like Gomez has been living her best single life. And this isn't the first time Gomez has nonchalantly brushed off dating rumors by embracing her singledom recently. When rumors were swirling that she was dating Zayn Malik earlier in the year, she posted a jokey TikTok yelling "I'm single!" at some soccer players to clear everything up.