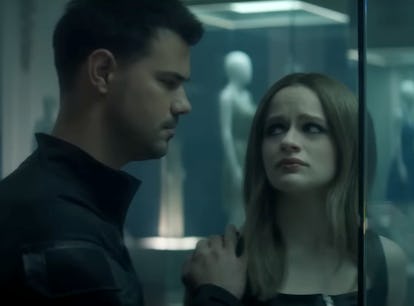 Taylor Lautner & Joey King Return To The Swiftiverse In The "I Can See You" Video
This is the ultimate Speak Now collab.
The Speak Now era is back and even more star-studded then ever. Naturally, Taylor Swift had a surprise up her sleeve to celebrate the re-release of her third studio album on July 7, but fans couldn't predict just how big the night would be. After staging a surprise reunion with three of the major stars of her Speak Now era, Swift surprise-dropped the music video for her vault track "I Can See You," which not only brought back her ex Taylor Lautner and her music video star Joey King, but was also filled with nostalgic Speak Now fashions and references.
Fans got their first clue that something was up when Lautner was spotted in the crowd at Swift's Eras Tour concert on July 7 in Kansas City, Missouri. Unlike most of Swift's ex-boyfriends, Lautner has been vocally supportive of Swift's re-recording process after she announced her Speak Now (Taylor's Version) project, which includes several songs inspired by him. Most notably, the heartfelt ballad "Back to December" is widely believed to be about the aftermath of Swift and Lautner's relationship, which ended in 2009.
Of course, Lautner wasn't just at the Speak Now (Taylor's Version) launch date show to watch from the audience. Midway through the concert, Swift brought Lautner on stage, along with Joey King and Presley Cash. Both King and Cash have a memorable place in Speak Now's history as well, having both starred in the "Mean" music video.
With her Speak Now trio assembled, Swift shocked the audience (and every Swiftie following along online) by debuting a brand new music video. It didn't take long for the hardcore fans to realize that the heist-themed "I Can See You" video was the mystery music video Swift had been spotted filming earlier this year in Liverpool.
The visuals for the newly released vault track tell a story of Swift reclaiming her Speak Now album, but sadly having to bid farewell to the mementos of the original era. Thankfully, she's able to count on her Speak Now allies to help her save her music. Lautner and King star in the video as acrobatic super-spies, who are able to break Swift out of a giant vault with some intel from Cash's character, who's surveilling the situation from the getaway car.
The meaningful cameos and all of the throwback looks and props featured in the museum-like setting make this the perfect music video to fully celebrate the second coming of Speak Now. And yes, you'll want to watch it multiple times to be sure you catch all of the Easter eggs.