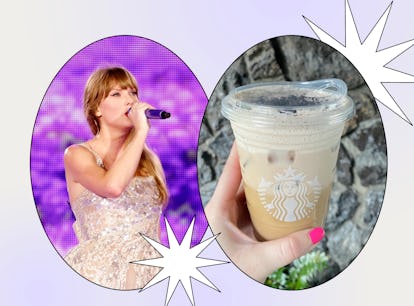 I Tried TikTok's Taylor Swift "Back To December" Starbucks Drink
This one's for The Summer I Turned Pretty fans, too.
Taylor Hill/TAS23/Getty Images Entertainment/Getty Images/Rachel Chapman/Elite Daily
Swifties, it's time to drop everything now as we enter the Speak Now (Taylor's Version) era. Starting July 7, Taylor Swift will own her third studio album Speak Now once again, which means a listening party is a must. For a wonderstruck event, you'll need the proper accoutrements like an on-theme sip. While TikTok's Speak Now drink on Starbucks' secret menu is a fitting choice, I was excited when I found a secret "Back To December" Starbucks drink on my FYP.
IMO, it truly is a crime that during its first release, "Back to December" was not a single off of Speak Now. The song, which is allegedly about Swift and Taylor Lautner's relationship, has since (and rightfully so) found itself at the top of many Swifties' lists of the best Taylor Swift songs. It's one I'm especially looking forward to listening to over and over again, which is why I had to try the "Back to December" Starbucks drink for myself.
The song "Back to December" is about a relationship that Swift ended, and now regrets doing so. She wishes she could go "back to December" and "make it all right." Of course, when you think of December, you likely think of the holidays and drinking hot cocoa by the fire. That's obviously what TikTok had in mind as well since the "Back to December" Starbucks drink from TikToker @toris_disneydose is an iced white chocolate mocha — basically a cold hot cocoa — with peppermint and a peppermint cookie cold foam on top. For anyone who wishes it was the holidays as they're sweating in the summer heat, this is actually the perfect iced drink for you.
To order, ask for an Iced White Chocolate Mocha with one to two pumps of peppermint syrup. Then, customize with a peppermint mocha cold foam — aka a Chocolate Cream Cold Foam with a pump of peppermint syrup — and a Cookie Crumble topping. A grande is about $8, while a venti is closer to $9.
TikTok's "Back To December" Starbucks Drink Review
The nostalgia is all too real with this drink. If you are looking for something that takes you "back to December" with each sip, this iced peppermint mocha is it. The minute I tried it, I was immediately reminded of Christmas and going out with my friends to look at all the lights in the neighborhood. Even though it's an iced mocha, the customizations make it taste like a frozen peppermint hot cocoa. The cookie crumble on top of the peppermint Chocolate Cold Foam was my favorite part, and reminiscent of the cookies you might leave out for Santa.
While it made me think of the holidays, it also vibes well with Swift's song "Back to December." The third track off the Speak Now album is all about longing and yearning from something out of reach. It's that same feeling you have when you're wishing for winter weather and cozy cardigans during the summertime. The Summer I Turned Pretty fans may also want to order this drink for their Season 2 watch party. Not only was "Back to December" featured in the final trailer for TSITP, but fans of the books know that longing for December and Belly's speciality hot cocoa are a big theme as well.
Even if I didn't associate this secret Starbucks drink with three of my favorite things — Taylor Swift, The Summer I Turned Pretty, and Christmas — I would still add it to my regular rotation of coffee order go-to's. It's delicious and full of flavor. I just wish it wasn't so darn expensive.