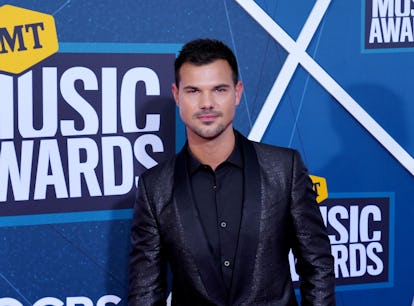 Taylor Lautner Is "Praying For John" Mayer Ahead Of Speak Now (Taylor's Version)
I mean, "Back to December" is def not as bad as "Dear John."
Jeff Kravitz/Getty Images Entertainment/Getty Images
It's a bad time to be one of Taylor Swift's exes... well, unless you're Taylor Lautner. The other half of Taylor Squared didn't have an infamously horrible breakup with the musician, unlike the man that Swift dated right after him. Although Lautner did inspire a popular song on Swift's third album Speak Now, he's not worried about the renewed attention when Swift re-releases the album this summer. But he does know someone who should be concerned: John Mayer. Lautner's reaction to Speak Now (Taylor's Version) included a knowing wink to the album's true antagonist.
After Swift announced Speak Now would be her next re-release, scheduled to drop on July 7, all eyes were on the very well-known subjects of that album. That's become something of a tradition in Swift's re-release era — Joe Jonas was in the hot seat for Fearless (Taylor's Version), and Jake Gyllenhaal was swept up in a whirlwind for months when Red (Taylor's Version) dropped. This time around, both Lautner and Mayer are the exes du jour. But they're not having the same reaction to the Swiftie drama.
"I think it's a great album. Yeah, I feel safe," Lautner told Today on May 16. Then he added a very knowing remark: "Praying for John."
A day later, Lautner put his words to action by posting a TikTok of himself praying for Mayer as "Dear John" played.
And those prayers are probably needed. Shortly after Swift announced the Speak Now re-release, fans flooded social media with jokes about the upcoming backlash John Mayer would be re-experiencing soon.
Mayer is famously the subject of multiple songs on Speak Now, which do not paint him in a good light. He and Swift dated for a few months at the end of 2009 and the beginning of 2010 while Swift was writing the album, and their breakup inspired personal tracks like "The Story of Us," "Superman," and the most notorious of all, "Dear John." The cutting single accused Mayer of playing mind games in his relationship with Swift, and fans are expecting its re-release to drudge up old feelings of resentment from the fandom, much like how the re-release of "All Too Well" reignited controversy around Gyllenhaal.
But Lautner's Speak Now track is much tamer. He also briefly dated Swift in 2009, and is heavily rumored to be the inspiration for her single "Back to December," a yearning love song in which Swift laments a failed relationship that she wishes she could get back. So, yeah, Lautner is safe from the Swifties.