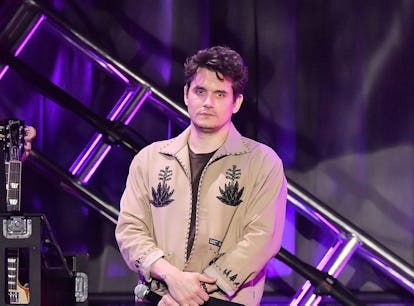 Swifties Are Celebrating Speak Now (Taylor's Version) By Trolling John Mayer
The "Dear John" renaissance is going to be bad for him.
Bryan Steffy/Getty Images Entertainment/Getty Images
Whenever Taylor Swift announces new music it's basically an international holiday on social media, and the most recent celebration had an unwitting star: John Mayer. Shortly after Swift confirmed she'd be releasing her new version of Speak Now over the summer, Mayer's name became a trending topic. And every true Swiftie knows why. Some of the best known songs from the 2010 album are not-so-subtly inspired by Swift's brief relationship with the crooner, so reentering the Speak Now era naturally led to a ton of hilarious John Mayer memes.
Swift and Mayer dated for three months at the end of 2009 and beginning of 2010, at the time that Swift was writing her third studio album, Speak Now. When the record was released in the fall of 2010, it was immediately apparent that Swift's troubled relationship and breakup with Mayer was a major inspiration. Although Swift doesn't often flat-out confirm which of her exes a song is about, the song title "Dear John" was an obvious giveaway. The song about a toxic relationship full of mind games and red flags remains one of Swift's songs with the most blatant inspiration, even referencing the pair's notable age gap in the lyric, "Don't you think 19's too young to be played by your dark twisted games?" (Swift was 19 while dating 32-year-old Mayer.)
Other biting tracks off the album are also widely thought to be inspired by the troubled relationship, including "The Story of Us" and the bonus track "Superman." With all the renewed attention Speak Now is getting and will continue to get for the rest of 2023, Swifties had a lot of fun imagining how worried Mayer must be about the re-release.
At least Mayer isn't totally alone. Joe Jonas was met with similar jokes when his past relationship with Swift was drudged up again by her 2021 re-release of Fearless, and Jake Gyllenhaal went through it when Swift released Red (Taylor's Version) the next year. Swifties have rallied around a joke that the three men have had to take turns being the main villain of the fandom.
Hopefully Mayer doesn't have any big plans on July 7 when Speak Now (Taylor's Version) drops, because it sounds like he's not going to be a very popular guy on that day.