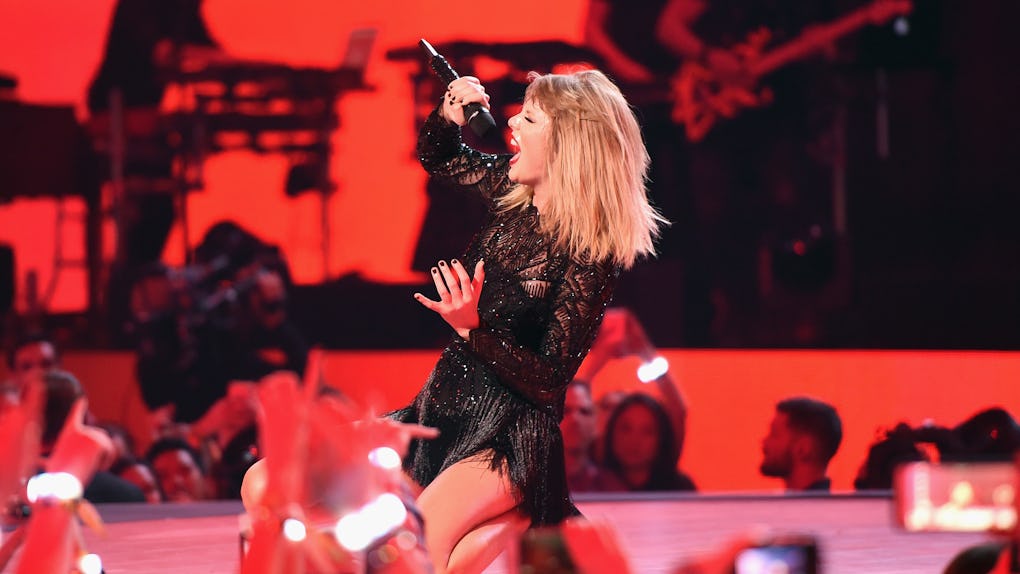 Kevin Winter/Getty Images Entertainment/Getty Images
Which Taylor Swift Songs Are About Her Ex-Boyfriends? This List Will Get You Ready For 'Reputation'
Taylor Swift receives a lot of mixed reviews. Personally, I can't get enough of her songs about old lovers, f*ckboys, and everyone in between. I mean, that's her signature and she does it well. Her songs have been rumored to be about many famous men in Hollywood, but the best part is decoding the hidden meanings. Which Taylor Swift songs are about her ex-boyfriends? Spoiler: A whole lot of them.
Swift's songs have been rumored to be about many, many different Hollywood hotties, like, Joe Jonas, Harry Styles, and Jake Gyllenhaal. She's the kween of sprinkling subtle hints (and sometimes very obvious jabs) in her songs. Across every album, fans can find a single that seems to fit one of Swift's exes. Below are seven of the most noteworthy songs that Swift wrote about exes, but, keep in mind, there are far too many to count.
1. "I Knew You Were Trouble"
One of Swift's finest, this hit from her Red album had Harry Styles written all over it. "I Knew You Were Trouble" lyrics sang about a person who "burned too bright" and was trouble for Swift.
I knew his world moved too fast and burned too bright
But I just thought, how can the devil be pulling you toward someone who looks so much like an angel
These lyrics could be construed every which way, but Swift gave the biggest giveaway of all. According to Teen Vogue, Swift said, after performing this number at the Grammys,
Well, it's not hard to access that emotion when the person the song is directed at is standing by the side of the stage watching.
Oh, and she reportedly said it in a "mocking British accent." OK, we hear you loud and clear.
2. "We Are Never Ever Getting Back Together"
I was always a little puzzled about Swift's relationship with Jake Gyllenhaal. The pair only dated for a few months, but he definitely left a lasting impression. She made him look like a Grade-A asshole in "We Are Never Getting Back Together" with these lyrics,
I'm really gonna miss you picking fights
And me falling for it, screaming that I'm right
And you would hide away and find your peace of mind
With some indie record that's much cooler than mine
Gyllenhaal is a well-known lover of indie music, and there's a scarf in the music video that is similar to the missing clothing item heard round the world.
3. "All Too Well"
The scarf mentioned above is the one Swift claimed to leave at his sister's house that Gyllenhaal may or may not have worn, too.
I walked through the door with you, the air was cold
But something about it felt like home somehow, and
I left my scarf there at your sister's house
And you've still got it in your drawer even now
At the time, eagle eyed fans scoured the internet to find the scarf she might be referencing, and found exactly what they were looking for.
Images of both Gyllenhaal and Swift rocking the same black and white striped scarf are enough to make us all go, "Yup. Checks out." The ultimate smoking gun.
4. "Mine"
This is a Swift oldie but goodie. As it turns out, it may actually be about the late Cory Monteith. Fans thought this track from Speak Now was about Monteith because the pair were rumored to only be dating for about a month and Swift told MTV in 2010 that "Mine" was inspired by a guy she "barely knew." She said,
This is a situation where a guy that I just barely knew put his arm around me by the water, and I saw the entire relationship flash before my eyes, almost like a weird science-fiction movie. After I wrote the song, things sort of fell apart, as things so often do.
Hmmmm.... I'm glad Monteith received his beautiful love song from Swift.
5. "Back To December"
Another hit from Speak Now, Swift donned this as an apology song. She told MTV in 2010 about "Back To December,"
Up until now, I haven't really felt like I really needed to apologize to someone... it's just necessary.
Fans assumed this song was about Twilight actor Taylor Lautner. The two were overwhelmingly the most talked-about couple and fizzled out pretty fast. According to Elite Daily, when Lautner was asked about the song, he responded by simply saying, "That's what she does."
6. "Dear John"
I know we're all getting excited for Reputation, but I'm starting to think Speak Now was Swift's low-key most savage album. No one was safe. "Dear John" was very obviously about heartthrob John Mayer — whom Swift was romantically linked to. He even responded to the song in Rolling Stone in 2012,
I was really caught off-guard, and it really humiliated me at a time when I'd already been dressed down. I mean, how would you feel if, at the lowest you've ever been, someone kicked you even lower?
I'm a little biased because I FREAKING LOVE JOHN MAYER, but the "Dear John" lyrics are harsh.
Dear John, I see it all now that you're gone.
Don't you think I was too young
To be messed with?
The girl in the dress
Cried the whole way home, I should've known.
Ouch.
7. "Better Than Revenge"
I think Speak Now was when Swift learned that you can really get the last laugh through amazing songs. She basically said point-blank this song was about Joe Jonas, who reportedly broke up with her for actress Camilla Belle in a 27-second phone call.
Jonas did the most 2008 thing ever and took his feelings to MySpace. According to People, the singer posted,
I never cheated on a girlfriend. It might make someone feel better to assume or imply I have been unfaithful but it is simply not true. Maybe there were reasons for a breakup. Maybe the heart moved on. Perhaps feelings changed. I am truly saddened that anything would potentially cause you to think less of me.
Jonas did start quietly dating Camilla Belle, but was also sure to mention that he wasn't the one who ended the 27-second phone call.
I truly think Swift had the final laugh with "Better Than Revenge." I mean, the lyrics are everything.
She's not a saint
And she's not what you think
She's an actress, whoa
She's better known
For the things that she does
On the mattress, whoa
Soon she's gonna find
Stealing other people's toys
On the playground won't
Make you many friends
DAYUMMM.
Swift has had some real bangers over the years. Honestly, Reputation comes out on Nov. 10, but there's plenty of Swifty shade to enjoy until then. Remember: Never cross Taylor Swift. NEVER.
Check out the entire Gen Why series and other videos on Facebook and the Bustle app across Apple TV, Roku, and Amazon Fire TV.