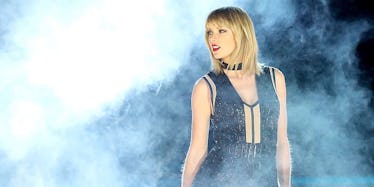 The Ultimate Timeline Of Every Guy Taylor Swift Dated Before Joe Alwyn
Getty Images/Gary Miller
Serial dater Taylor Swift is back with another bae, and this time he's a British guy! Given her past relationships, fans are probably guessing they'll part ways sometime soon, but let's all try to stay optimistic. Shall we?! The mega-superstar has been reportedly linked to British actor and handsome dude Joe Alwyn and they're pretty darn cute. This makes the list of Taylor Swift's ex-boyfriends continue to grow, and we must never forget. Who else scores dates with literally all of the hottest people in the world besides Taylor? Nobody. That's why we must reminisce about these handsome fellas. I mean, why not?
The Grammy winner and princess of pop is known for her very public relationships, and her (even more) public songs about those relationships. Remember the catchy song "Trouble" about an unsuccessful relationship? Yeah, that's an ex-boyfriend song. What about the song "The Last Time"? That track was reportedly about Jake Gyllenhaal. Note to self: If you're going to date Taylor Swift, expect to have a song written about you. Since Swifty has annihilated a whole swarm of hot, successful men, let's look back at her past love life, and remember the good times, the bad times, and the short lived times. After all, it's all fun and games until someone writes a song about you.
1. Tom Hiddleston
Remember her latest ex-boyfriend Tom Hiddleston? The pair only lasted several months in 2017 but at the time he was spotted wearing an "I love T.S." shirt. So, there's that.
2. Calvin Harris
All-star DJ and celebrity Calvin Harris dated Taylor Swift for 15 whole months, but it truly felt like forever. Swifty almost immediately started dating Hiddleston after the split. She moves fast.
3. Harry Styles
Uber-famous Harry Styles and Taylor Swift dated from October of 2012 to January of 2013, and it was the talk of the universe. After the infamous split, Styles discussed the reasoning behind it to Rolling Stone. He said, "But at the heart of it. I just wanted it to be a normal date."
4. Conor Kennedy
Cutie Conor Kennedy and T. Swift didn't last long, but oh-how-sweet they were together. The short-term lovers only lasted several months, probably because there were claims Swift kidnapped the young Kennedy. Yikes.
5. Zac Efron
Although Efron and Swift never admitted to actually dating, they made our list. Rumors are usually true, right? The famous singer denied dating Efron after being questioned by Ellen Degeneres on her show in 2012. She said, "He's awesome, we are not a couple though." Whatever.
6. Garrett Hedlund
Actor Garrett Hedlund and Taylor Swift were rumored to be together back in 2011, but never released a statement about officially dating. We can only imagine their relationship.
7. Chord Overstreet
Remember gorgeous Glee actor Chord Overstreet? The two were spotted together in February of 2011 at a hockey game, and rumors spread like wildfire. They didn't last long though. Sad.
8. Adam Young
Owl City's Adam Young "dated" Taylor Swift for a hot second. That is, if you consider meeting a few times and exchanging emails, dating. The musician told US Weekly, "When I met her she was glowing, and I was too. It's hard to put into words, but I was definitely wonderstruck to meet her." After hearing Young's poetic way of speaking, it's no surprise Swifty reportedly wrote the song "Enchanted" for him.
9. Jake Gyllenhaal
In the true fashion of a serial dater, Swift dated Gyllenhaal for only a few months (I guess there's a reason her last name is Swift). Gyllenhaal left the relationship with "Red," his very own Taylor Swift song. 
10. Toby Hemingway
After choosing British actor Toby Hemingway to star in her "Mine" music video, Swift was spotted in 2010 with Hemingway on dates in several different cities. Sadly, the couple didn't last long but at least Swifty got a great music video out of him! I guess Hemingway wasn't "mine" after all.
11. Cory Monteith
Before getting snatched up by Lea Michele, Cory Monteith was rumored to have been on Taylor Swift's hit list of boyfriends. Although Swift seemed pretty gleeful when photographed with Monteith in 2010, the two split after only a few months. Too bad, Tay-Co!
12. John Mayer
Ah, yes. The glorious John Mayer relationship, which was perhaps the most famous of them all. It seems pretty obvious that Swift's song "Dear John" is most likely about this golden voiced angel. But that isn't the only song Swift sent in Mayer's direction. Mayer's ex-bae Katy Perry snatched several of Swift's backup dancers mid-tour, leaving Swifty dancer-less and angry. Shortly after, the song "Bad Blood" was released. Yikes.
13. Taylor Lautner
What's better than one Taylor? Taylor squared, of course. The Taylors quickly became Hollywood's hottest couple and were hounded by the paparazzi all over Los Angeles. After their split, Swift dedicated "Back to December" to Lautner, who responded with a simple remark, "that's what she does."
14. Lucas Till
Swift may have met her match in X-Men star and cutie with a booty Lucas Till, who is famous for dating all of Hollywood's most eligible bachelorettes. After his breakup with Miley Cyrus, Till reportedly fell for Swifty on the set of her music video for "You Belong With Me." Don't worry, Swifties, Till confirmed with MTV News that Swift is a better kisser than Cyrus.  
15. Joe Jonas
Perhaps the most beautiful of Swift's many men, Joe Jonas was rumored to have broken up with Swifty in a 27-second phone call. Jonas defended himself in a Myspace post to his fans, stating, "I called to discuss feelings with the other person. Those feelings were obviously not well received. I did not end the conversation. Someone else did." Ouch. Baby, now they've got bad blood.
Will Joe Alwyn be next on Taylor Swift's breakup list?