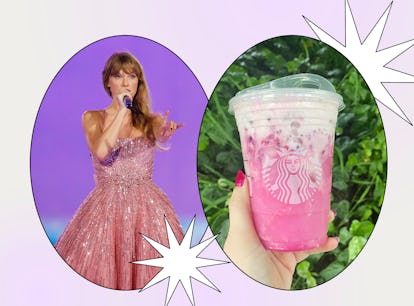 I Tried TikTok's Viral Taylor Swift Speak Now Starbucks Drink
Swifties, drop everything now and order this!
Octavio Jones/TAS23/Getty Images Entertainment/Getty Images/Rachel Chapman/Elite Daily
Swifties (myself included) have been clowning around for months, looking for easter eggs that point to Taylor Swift's next re-recorded album. And it looks like Speak Now (Taylor's Version) is the big winner!!! After the singer-songwriter dropped her "Bejeweled" and "Lavender Haze" music videos that were full of clues pointing to her third album, fans have been not-so-patiently awaiting for confirmation. Welp, the wait is officially over — Swift announced at her Friday, May 5 Eras Tour concert in Nashville that Speak Now (Taylor's Version) is scheduled to drop on July 7. While you wait, I found the perfect way to get into the Speak Now era: an inspired secret menu Taylor Swift Starbucks drink.
TikToker and Starbucks barista @jalenoboyleee came up with a Speak Now-inspired drink that has gone viral on the FYP. Of course, Taylor Swift-inspired Starbucks drinks are nothing new. To celebrate the start of her Eras Tour in March, the coffee company released their version of every era as a Starbucks order. Speak Now was assigned a Dragon Drink. For my version of the Speak Now drink, I also chose the Dragon Drink, but included a splash of the Passion Tango Tea to give the drink a more violet hue.
The TikTok Speak Now drink is also a Dragon Drink, but with a strawberry vanilla cold foam on top. It was the customized cold foam that got me excited to try this version to see if this is perhaps the best version of a Speak Now Starbucks drink and the one that every Swiftie should order when Taylor's Version finally drops.
TikTok's Speak Now Starbucks Drink Review
The same way the "Lavender Haze" drink really took off after Midnights was released, Swifties will want to have a Speak Now drink to match their album while listening to Taylor's Version. To order TikTok's version, ask for a Mango Dragonfruit Refresher with coconut milk. This is basically the Dragon Drink at Starbucks. Then, ask for strawberry puree in your vanilla sweet cream cold foam.
This is what gives the foam a pink shade to match the purple-y pink drink — aka what makes it unique and Insta-worthy. Since customizing your cold foam isn't an option on the app, you'll need to order this one from a barista instead of mobile ordering ahead. According to @jalenoboyleee, just ask your barista if you can get a "mango dragon drink with vanilla bean and strawberry cold foam."
I didn't have any trouble ordering my Speak Now drink at Starbucks, but I do wish I had asked for extra strawberry puree in my cold foam. The topping was slightly pink, but not enough for anyone to really notice. What I really wish is that there was a way to order a purple topping. Pink is pretty, but purple is the color that's been assigned to the Speak Now era — as evident in her "Bejeweled" music video and Eras Tour bracelet. However, I did love what happened to my pink cold foam as it sat for a bit in my drink. It started to blend in with my refresher, which reminded me of Swift's flowing purple dress on the cover of the OG album.
As far as taste goes, I really liked the addition of a vanilla cold foam to the Dragon Drink. I'm not sure if I've ever tried that combo before, but it was a delicious mix of fruit and cream. On its own, the strawberry vanilla cold foam reminded me of a strawberry shortcake. I started imagining what other drinks would benefit from having a strawberries and cream-like topping. An iced mocha would probably taste like chocolate covered strawberries, and you can't go wrong with adding a strawberry vanilla cold foam to the already strawberry-flavored Pink Drink.
The cold foam does cut down on some of the tartness of the dragonfruit refresher and makes it sweeter. If you're looking for something more fruit-forward, you may prefer my version of Speak Now with Passion Tango Tea instead. However, if you love dipping your fruit into whipped cream, you'll be enchanted by this order and really feel the sparks flying with each sip.