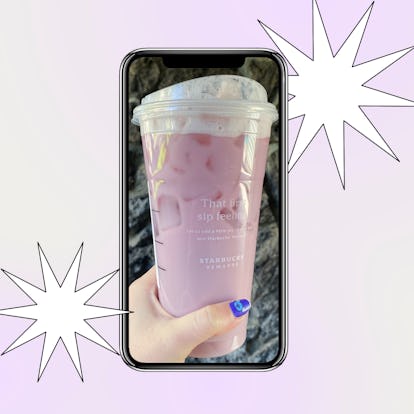 Swifties Need To Try The Lavender Haze Drink At Starbucks
This secret menu sip is for Starbucks (tea) lovers.
Rachel Chapman/Elite Daily
It's not just Taylor Swift. The "lavender haze" seems to be creeping up on everyone these days, and Swifties have found the perfect sip to fit the mood. This secret lavender haze drink from Starbucks is a must-try, especially for tea lovers. Since it's not officially on the Starbucks menu, here's everything you need to ask for when ordering in store or on the app.
Inspired by the aesthetics of Swift's newest music video, this eye-catching drink is a must for your "Day in the Life" TikToks and story pics. Creator @alexiaencinas13 shared a TikTok ordering the lavender haze drink and watching the "Lavender Haze" music video, which honestly sounds like the perfect thing to do with your bestie. And the best part is that the drink is extremely easy to order.
To create your own lavender haze drink, ask your barista for an iced passion tea with soy milk. This combo will give you the gorgeous and 'Gram-worthy lavender haze shade, but for the flavor, you'll also want to request six pumps of vanilla for a venti. For a smaller size, adjust it to your taste. Six pumps of syrup may sound like a lot if you're not a sweets person, but it's actually the perfect amount of sweetener to go with the tanginess of the passion tea. Together, it creates a smooth and light passion fruit-flavored drink.
The Lavender Haze Drink At Starbucks, Reviewed
Inspired by @alexiaencinas13's TikTok, I went to Starbucks to try their version of the lavender haze drink, and it was surprisingly refreshing. I was nervous about the six pumps of vanilla syrup, thinking it would be too sweet, but it wasn't overpowering at all. It really did blend well with the passion tea. The only thing that was a little disappointing was the color. Yes, it was lavender but a very milky lavender. I don't know if my "splash of soy milk" was more of a full addition of soy milk, but the purple hue was pretty diluted.
Of course, you can experiment to get the perfect lavender haze drink for you. There's actually another secret lavender Starbucks drink off the menu called the Lavender Dream Tea, which starts with the same base of iced passion tea and soy milk but also includes a scoop of blackberries. Instead of using vanilla syrup for sweetness, the Lavender Dream Tea has a vanilla sweet cream cold foam on top that has two pumps of honey blend syrup in it.
If I were to try this again or even make it at home, I might add in the scoop of blackberries that's part of the Lavender Dream Tea to see if that adds more color to the drink. The ideal color is the same shade of purple as the water in the "Lavender Haze" music video. You could also make the lavender haze drink at home to have full control over the color of your tea. You just need to order or find the Tazo Passion tea at your local grocery store and brew some for yourself. The tea itself is pinkish in color, so adding in the dash of soy milk is what gives it a lavender shade. From there, you can add in some pumps of Starbucks vanilla syrup or make your own sweet cream cold foam. Finally, garnish with some edible lavender flowers to really make your sip look like it came straight from the "Lavender Haze" music video.