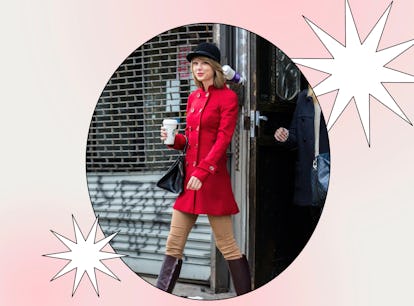 Here's The Starbucks Drink That Goes With Each Taylor Swift Era
The Red Starbucks drink is a no-brainer.
Alessio Botticelli/GC Images/Getty Images/Elite Daily
Taylor Swift really does have a long list of Starbucks lovers — the coffee company just revealed that it's a major Swiftie. To celebrate the start of Swift's Eras Tour, Starbucks tweeted a list of each one of the "eras as Starbucks drinks." Great minds think alike, because I had the same thought that day. While trying to come up with my own drink ideas, one of my friends directed me to Starbucks' post.
As an OG Swifitie, I immediately had some thoughts on their matches. While I agree with 90% of Starbucks' Taylor Swift eras drinks list, there are a few that seem completely random or could be improved upon. That being said, some of the picks are no-brainers. During her Red TV era, Swift revealed that her fave drink is a grande caramel nonfat latte, making it an obvious choice for Red (Taylor's Version). When the album was released in November 2021, fans could even order "Taylor's Latte" at Starbucks to get their very own caramel nonfat latte.
However, I think some of the choices, like a hot chocolate for Swift's debut album, Taylor Swift, could be a little more inspired. There's also a viral "lavender haze" drink that Swifties are ordering for the Midnights era that would have been a solid choice instead of the Chocolate Cream Cold Brew Starbucks chose.
If it were up to me, these would be the Starbucks drinks paired to each one of the Taylor Swift eras.