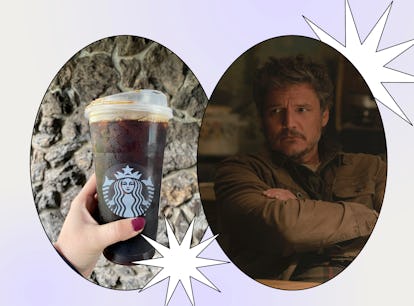 I Tried Pedro Pascal's Starbucks Order & It Needs A Warning Label
Daddy needs his caffeine.
Liane Hentscher/HBO/Rachel Chapman/Elite Daily
Pedro Pascal is a busy man. Not only is he known for escorting Grogu — aka Baby Yoda — across the galaxy in The Mandalorian and avoiding the infected as Joel in HBO's hit series The Last of Us, but he's also having a moment as one of TikTok's favorite daddies and the star of several viral memes including the fan edit of Pascal that's all over your FYP. With so much on his plate at one time, it's understandable that Pascal's favorite Starbucks order includes numerous shots of espresso. You may be getting jittery just thinking of all the caffeine. There's the "but first, coffee" people of the world, and then, there's Pedro Pascal.
If you thought Lorelai and Rory Gilmore from Gilmore Girls loved coffee, Pascal is here to prove that he loves it more. Aside from customizing his drink to include extra ice, he doesn't even add flavor or milk to the espresso, either. So, it's really just straight up espresso. "Daddy needs his coffee every morning to carry the entire world and a fandom over his shoulders," TikToker @alexafromspace captioned the video sharing Pascal's Starbucks drink. If you've found yourself on Pedro Pascal TikTok, you'll definitely want to try his go-to Starbucks order — but be warned. It's a lot.
How To Order Pedro Pascal's Starbucks Drink
This espresso drink is actually pretty easy to order. When mobile ordering off the app, select an ice quad espresso but change the amount of shots from four to six. Under "add-ins," change the ice to "extra ice" and choose venti for your cup size. If you're ordering from your barista, just ask for six shots of espresso in a venti cup with extra ice. That's pretty much it, and you're good to go.
Pedro Pascal's Starbucks Order Review
When I saw Pascal's Starbucks order on TikTok, I knew I had to try it for myself. I do love espresso, but the most I've ever gotten before is three shots, and that's usually in a venti-sized caramel macchiato or dirty chai latte. I've never done just six straight espresso shots by themselves, and it's intense. It's definitely a drink you'll be sipping on all day, which is probably why Pascal gets it in a venti cup with extra ice. As the day goes on, your ice will melt and make the espresso more like an Americano.
Unless you love the taste of espresso and black coffee, this drink isn't the most flavorful choice. Instead, it's something you should order when you have a big day to look forward to. I'd recommend this for college students who have a late-night study sesh ahead of them or anyone trying to get through a day of work after staying out late the night before. A regular iced quad espresso with four shots has about 300 mg of caffeine, which means Pascal's drink has about 450 mg of caffeine. Mayo Clinic says that up to 400 mg of caffeine is fine for most adults, but you definitely shouldn't be pushing the limits.
Considering I don't have the same busy lifestyle as Pascal, I probably won't be ordering six shots of espresso in one day ever again. However, I will definitely be using this extra boost of energy to do chores around my apartment that I've been putting off because I haven't had the motivation.