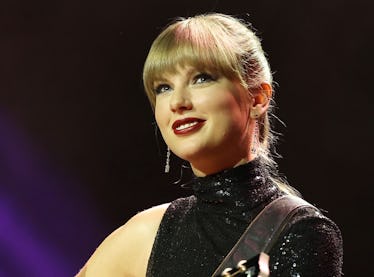 Order Taylor Swift's Go-To Starbucks Drink To Stay Awake For Midnights
Bonus points for pairing it with her chai cookies!
Terry Wyatt/Getty Images Entertainment/Getty Images
Taylor Swift might want your midnights, but you're going to want the songwriter's go-to Starbucks drink. Whether you need some caffeine to stay up for the Midnights release or want a new fall sip, Taylor Swift's Starbucks drink is the answer. The superstar revealed her most-ordered coffee during her Red (Taylor's Version) release in November 2021, and it's such a classic. With a simple order, you can be sipping the same Starbies that gets Swift going.
You may remember there was a time when you could order Swift's favorite Starbucks drink from the official menu, but that was to celebrate the singer's 2021 fall release. Now that you have all the words to "All Too Well (10 Minute Version) (Taylor's Version) (From The Vault)" memorized, you'll have to order Swift's Starbucks drink all on your own. Luckily, it's a super simple sip you can order in person or right in the Starbucks app: a Grande Caramel Nonfat Latte.
I know, I know, you might think the queen of maple lattes (Red liner notes stans get it) would go with, well, a maple latte — but nope, Swift keeps it simple. To order this in store or when you pull up to the Starbucks drive-thru, simply ask for it by name, a Grande Caramel Nonfat Latte.
How To Order Taylor Swift's Starbucks Drink In the App
In more of an order now and pick-up later mood? No problem, you can easily order it in the app as well.
Go to Order > Menu > Hot Coffees.
Then, scroll down to "Lattes," and tap on Caffè Latte. (You can also search "Caffè Latte in the top right corner by the magnifying glass.)
It'll automatically choose a grande, but you'll have to tap "Customize" to be just like Taylor.
Under milk, choose Nonfat Milk
Scroll down to "Flavors" and tap "Add Syrups." Add 4 pumps of Caramel Syrup.
And there you have it, you're drinking the same coffee as the queen of album easter eggs herself. Of course, you can customize it any way you like — oat milk instead of nonfat or half the amount of caramel. There's also a New Dark Caramel Sauce you can try instead of the Caramel Syrup. It'll be like you're having Taylor Swift's Starbucks Drink (Your Version).
You might be prepping to stay up all night with Midnights, which drops Oct. 21, and tells the "stories of 13 sleepless nights" scattered throughout Swift's life, but don't forget that Red (Taylor's Version) is what gave us the singer's go-to order. At the time in November 2021, Starbucks also spun the singer's music hits on repeat in stores.
Of course, since Swift doesn't have an official Starbucks partnership for her Midnights release, you'll have to order her favorite drink and play the new album on repeat in your car, your dorm room, or wherever you want to jam out with Taylor. Oh, and don't forget to pair your latte with her chai cookies — it's a match made in Midnights heaven.
This article was originally published on