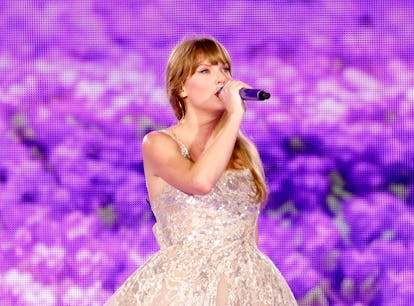 The Inspiration Behind Every Song On Speak Now (Taylor's Version)
Overanalyzing Taylor lyrics? Check.
Taylor Hill/TAS23/Getty Images Entertainment/Getty Images
It's time for Speak Now (Taylor's Version) — and the Swifties have plenty to celebrate. The re-released album comes with all of their old favorites, plus six new songs from the vault. So, now's as good a time as any to look back over the inspiration behind the fan-favorite Taylor Swift album.
Nostalgic fans — the ones who were listening back when Speak Now came out for the first time in October 2010 — know there's a lot of lore surrounding this album. Many songs do refer to Swift's romantic past, inspired by ex-boyfriends, but that's far from her only source of inspiration. Harsh critics, painful memories (hi, Kanye), and sweet moments on tour also influenced this era. "I always looked at this album as my album, and the lump in my throat expands to a quivering voice as I say this, thanks to you, dear reader, it finally will be," Swift wrote on Instagram in May when announcing the re-release. "I consider this music to be, along with your faith in me, the best thing that's ever been mine."
As you get ready to listen (or re-listen), here's a full breakdown of Swift's reported — and, sometimes, confirmed — inspiration behind every song on Speak Now (Taylor's Version).