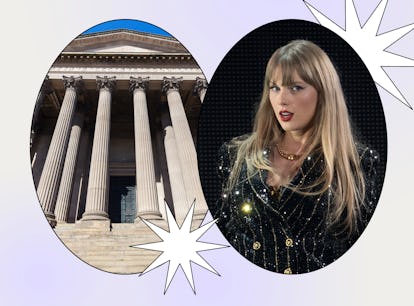 Taylor Swift's Music Video In Liverpool Had Major "Vigilante" Vibes
Fans noticed plenty of Speak Now easter eggs on set.
Henryk Sadura/Moment Unreleased/Getty Images/SUZANNE CORDEIRO/AFP/Getty Images/Elite Daily
While Swifties were in mourning following rumors of Taylor Swift and Joe Alwyn's breakup, the Midnights singer spent her weekend doing something completely different. Taking advantage of the break in her Eras Tour schedule, Swift reportedly flew to the UK to shoot a new music video in Liverpool. The queen of easter eggs is always keeping her fans on their toes by subverting expectation and making sure to leave clues along the way.
According to The Sun, Swift was shooting in Liverpool at two filming locations that can also be spotted in 2022's The Batman — St George's Hall and the Cunard Building. St George's Hall in Liverpool was used as Gotham City Hall, but the Cunard Building can only be seen in the background of the film. Robert Pattinson — aka Batman — sits atop the Royal Liver Building in one scene, which is right next to the Cunard Building at the Pier Head. A source reportedly told the outlet, "Taylor loves the history of the landmarks and was excited to film somewhere completely different and unexpected."
The Sun source revealed Swift's shoot "was an incredibly slick operation" and crew was "asked not to have their phones on them and to sign non-disclosure agreements." However, that didn't stop onlookers from snapping pics, and Swift's latest adventure in Liverpool has fans analyzing set photos and speculating online. In addition to where she chose to film, fans are also dissecting the props and celebs spotted on set for Swift's music video.
The prevailing theory is that Swift was shooting the music video for her song "Vigilante Sh*t" from Midnights, which is rumored to be about Scooter Braun. Photos of Swift stealing a painting with her OG curly locks and a "13" drawn on her hand — both representative of her Speak Now era — have led fans to speculate that she's stealing back her masters in the video.
Joey King and Taylor Lautner were also apparently spotted at the shoot, and both were a big part of Swift's Speak Now era. Swifties will remember King was in her "Mean" music video and Lautner was the inspiration behind her song "Back to December." If this is a music video for Midnights with Speak Now easter eggs, it'll be like the "Bejeweled" music video — which had several references to Swift's third album including the balcony Swift used during her Speak Now tour. The same balcony was spotted at the Liverpool music video shoot.
There are still four albums left to be re-released, and fans have been sleuthing extra hard for clues on which album is next. While all four albums could be in the music video, there seems to be more Speak Now easters eggs from the BTS photos. This lines up with the legit easter eggs in Swift's Era Tour that point towards Speak Now (Taylor's Version).
If Swift really is planning a vigilante sh*t heist to take back her masters, a Batman filming location seems like a very fitting place to do it. Any Swifties hoping to do some set-jetting and visit the filming location of Swift's next music video will want to check out the event calendar for St George's Hall. The building offers exciting events and exhibits you can check out while on vacay in the UK. They also have a bakery at St George's Hall that sells pies and pastries. It may be a little harder to step inside the Cunard Building, but you can check out the Pier Head area right next to the river and snap some pictures outside for your own "Vigilante Sh*t" moment.