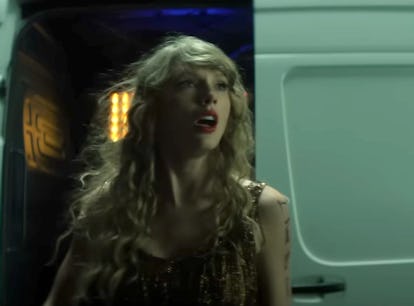 Taylor Hid An Easter Egg About Which Re-Recording Is Next In "I Can See You"
Eagle-eyed Swifties will see a lot more than Taylor Lautner and Joey King in the "I Can See You" music video. Yes, the new visuals for Taylor Swift's Speak Now (Taylor's Version) vault track are filled with celebrity cameos and throwback looks, but the real scene-stealers are the Easter eggs that the singer so famously loves to hide in all her releases. And "I Can See You" may have the most blatant Easter egg yet, as the video's final moment drops a huge hint about which album Swift is planning to re-record next.
There's been so much speculation about the order in which Swift will re-record all her albums. When Swift first announced the project to release new versions of her first six albums as a way to regain control of her masters, fans naturally assumed she's just go in their release order. But Swift threw a wrench in that right away by re-recording her second album, Fearless, first. With her fourth and third albums, Red and Speak Now, both having their (Taylor's Version) treatment complete, rumors have been rampant about which album will be next, with Reputation and 1989 being the top contenders. At long last, the "I Can See You" video may have revealed what's next.
The heist-themed video ends with Swift and her squad driving off over a bridge. But a closer look at the sign hanging on the structure spells out a deliberate clue.
Didn't catch it? The small sign reads "1"-9" 8.9tv," a pretty clear allusion to 1989 (Taylor's Version). The fact that the video ends with Swift driving in that direction after stealing back Speak Now only adds even more to the theory that she's planning to re-record 1989 next.
There are also a few other Easter eggs that seem to hint at a return to the 1989 era. Fans pointed out the briefcase fight scene looked a lot like a similar scene in the "Bad Blood" video. One of the opening shots of Swift's mouth also felt reminiscent of the 1989 album cover. And the secret agent laser beams sneak was very similar to a promotional video Swift did while promoting 1989.
Although the biggest Easter egg of all seems to spell out what's next, not all Swifties are so easily convinced. The video does share the same overall vibe as her "Look What You Made Me Do" video, which launched her Reputation era. Both videos center on Swift breaking into or out of giant vaults, as many fans pointed out online.
The mastermind that she is, Swift has definitely used these Easter eggs to throw fans off her scent before. But IDK, it's hard not to take that 1989 sign at face value.