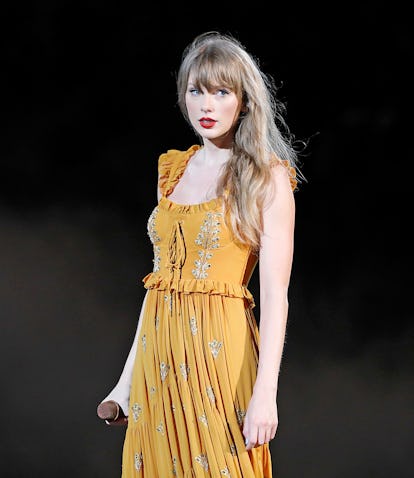 Taylor Swift Is Bringing Back Her Squad
Suddenly it's 2015 all over again.
Octavio Jones/TAS23/Getty Images Entertainment/Getty Images
Taylor Swift is all about her eras right now, and she just brought an iconic one back to life. Throughout the mid-2010s, Swift's omnipresent "girl squad" ruled pop culture, but as the decade came to an end, Swift notably stopped having as many public hangouts with her famous friends, and the fan-dubbed "squad" disappeared. Well, get ready for Squad 2.0, because it looks like Swift is bringing the girlies back together. Following her reported split with longtime boyfriend Joe Alwyn, Swift is leaning on her female friends more and more. Here's who's at the core of Taylor Swift's new squad.
The squad resurrection began on April 20, when Swift was spotted having a night out in New York City with Blake Lively, Gigi Hadid, and the Haim sisters: Daniella, Este, and Alana. Immediately, diehard Swifties clocked the hangout as the return of The Squad, Swift's infamous network of famous friends who dominated her public image throughout the 2010s. Fans speculated the reunion was a show of support for Swift after her breakup with Alwyn, as social media sleuths pointed out none of the women follow Swift's ex on Instagram anymore.
Swift's squad had been a source of intense fascination for her fandom throughout the years, as Swifties would track the ever-changing status of who was in the group or on the outs at any given time. It makes sense that Lively, Hadid, and the Haim sisters would still be by Swift's side today, since they've long been considered core members of the squad.
Other squad members who are still incredibly close to Swift include her bestie Selena Gomez, Hayley Williams, Cara Delevingne, and Emma Stone, who recently attended Swift's Eras Tour.
But a lot of once-important squad members have fallen out of favor with Swift over time. Chief among them is Karlie Kloss. The supermodel was once considered one of Swift's closest friends, until she sided with Swift's sworn enemy Scooter Braun during their public feud over album ownership in 2019. Other former squad members include Zendaya, whom fans noticed favorited tweets supporting Swift's enemies Kanye West and Kim Kardashian during the height of their feud in 2016, and Kendall Jenner, who obviously sided with her sister Kardashian during the drama.
So get ready for more Fourth of July parties, baking cookies, and girls' nights out, because Squad 2.0 has officially been activated.