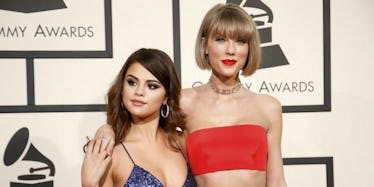 Are Taylor Swift And Selena Gomez Fighting? Here's Who's Left In The Girl Squad
REUTERS
Last year, it seemed there was no force in the music biz more powerful or ubiquitous than Taylor Swift's infamous girl squad.
But after a pretty crazy year for Swift, full of high-profile breakups and public feuds, it's looking like some of the girl group's most famous members are creating some distance from The Blonde One.
With all the supposed drama going on within The Squad™, I'll go through each major member one by one and let you know who's still in, who's out and what exactly is going on with everyone.
Selena Gomez
Squad Status: Rumored At-Odds
Maybe the buzziest reported split from the squad in recent months was Selena Gomez, who made headlines for her new relationship with The Weeknd back in January.
Given that The Weeknd had just broken up with another Swift squad member, Bella Hadid, just a couple months earlier, rumors started flying Gomez's new boo was also a sign that she was taking a step away from Swift's circle.
Lena Dunham
Squad Status: In
A longtime Taylor Swift fan, Lena Dunham solidified her friendship with the singer in 2014, as her boyfriend Jack Antonoff worked extensively in the writing and production of Swift's latest album, 1989.
Dunham proved her friendship to Swift was still going strong recently by defending Swift's notable silence regarding the presidential election.
Ed Sheeran
Squad Status: Iffy
The most prominent male member of the girl squad may have ruffled Taylor Swift's feathers last week by getting chummy with a Persona Non Squada.
Ed Sheeran crashed a radio interview with Katy Perry, and it sure sounded like the two singers were getting along really well. It's no secret Swift and Perry have a major feud — Swift even recruited her squad to send Perry a deadly message in her "Bad Blood" music video.
Zendaya
Squad Status: Out
Though she starred in Taylor Swift's squad-filled "Bad Blood" video, Zendaya made her exit from the group right after Kim Kardashian famously posted that video of Swift and Kanye West talking on the phone.
As I'm sure we all remember, the internet exploded with reactions to the video, and Zendaya made her side clear by favoriting some tweets that were decidedly anti-Taylor, and the ex-friends haven't been seen together since.
Gigi and Bella Hadid
Squad Status: In
The Hadid sisters have been tight with Taylor Swift for years now, and it doesn't look like that's going to change any time soon. In fact, Swift just made her return to music (after two years with no new releases) with a song featuring Gigi's boyfriend, Zayn Malik.
Ellie Goulding
Squad Status: It's Complicated
Taylor Swift and Ellie Goulding may not have had any falling out themselves, but Swift's breakup with her longtime boyfriend Calvin Harris last year may make things awkward between the two singers.
Harris actually dated Goulding before Swift, and it was Goulding who set Swift up with her ex! Clearly, Goulding and Harris were still close after their breakup, if Goulding felt comfortable enough to set him up with one of her friends.
But after Swift and Harris had a particularly nasty breakup (involving some harsh Twitter shade), Goulding was spotted hanging out with Harris. Hmmm, I wonder what Taylor thinks of that...
Lorde
Squad Status: In
Taylor Swift organized a whole birthday party for Lorde a few months back, so it looks like their friendship is still going strong. Although, Lorde may have her eyes on forming a new girl squad as well.
Recently she and fellow pop singers Charli XCX and Carly Rae Jepsen joked they should start a girl group together.
Karlie Kloss
Squad Status: In
Duh... Taylor's supermodel bestie is probably her closest friend within her squad. Karlie is most likely a squadder for life.