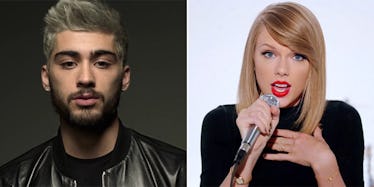 Taylor Swift And Zayn Dropped A Sexy Song Together And Twitter's Losing It
YouTube
Lately, the teasers for "Fifty Shades Darker" have been making a lot of people hot and bothered.
However, you can't really blame people for going crazy for all of Anastasia Steele (Dakota Johnson) and Christian Grey's (Jamie Dornan) seductive scenes in the tantalizing movie trailer.
But if getting a preview of this sexy sequel made you seriously weak in the knees, you might want to brace yourself: It looks like the steamiest movie of the year will also have two of the year's hottest artists – Taylor Swift and Zayn Malik – getting together to make sweet music in the background.
That's right: Taylor and Zayn just released a song together for the "Fifty Shades Darker" soundtrack. It's called "I Don't Wanna Live Forever" and it's everything.
A couple of days ago, Zayn revealed something might be going on between him and Taylor by posting a black and white photo of him posing alongside T-Swift... and her cat, of course.
Then, on Thursday night, T-Swift confirmed our suspicions when she leaked a sneak preview of her collaboration with Zayn on social media. She also released the sensual song on iTunes.
As you can imagine, it didn't take long for the news to travel.
Now, people are completely losing their shit over Taylor and Zayn's new track.
In fact, the song has already skyrocketed through the charts. It's now occupying the number one spot in both our hearts AND on iTunes.
Plus, social media has been blowing up with all the reactions to Taylor and Zayn's magical music.
Lena Dunham even gushed about "I Don't Wanna Live Forever" on Instagram.
She congratulated Taylor and Zayn, as well as her boyfriend Jack Antonoff, who helped write the song.
Yep, there's no denying T-Swift and Zayn just dropped one of the sexiest songs of all time like it's NBD.
But now, fans are asking the question we've all been secretly wondering: When the hell is the music video for this steamy AF song going to be released?
Nonetheless, these two certainly deserve a round of applause for their amazing collab. Bravo, Taylor and Zayn!
Zayn and Taylor just shook us with a #FiftyShadesDarker collab and we're over here like #idontwannaliveforever @zaynmalik @taylorswift13 pic.twitter.com/4CTl2H9ChP — Young Hollywood (@younghollywood) December 9, 2016
Citations: Stop What You're Doing and Listen to Taylor Swift and Zayn Malik's Fifty Shades Darker Collab (Cosmopolitan)