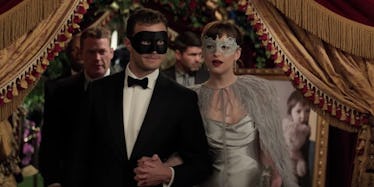 The Full 'Fifty Shades Darker' Trailer Is Here And It's Super Steamy
Universal Pictures
I hope you kids are ready to be terrified and yet oddly aroused because the full "Fifty Shades Darker" is HERE.
After teasing us all with 19 seconds of mask play yesterday, the full two-minute trailer for the "Fifty Shades of Grey" sequel gives us all kinds of juicy new footage.
It looks Christian Grey (AKA Jamie Dornan) would really like to get back to his sexy shenanigans with Anastasia Steele (AKA Dakota Johnson).
Ana, while reluctant, is ready to give him a chance, except this time she is requesting "no rules, no punishments and no more secrets."
Wow, Ana, that's kind of a lot to ask from a healthy, loving relationship, don't you think? (No, it's not at all, that's very reasonable and every woman should expect this of their boyfriends, please.)
But more important than Ana standing up for herself, LOOK AT JAMIE DORNAN'S BARE BACK WHILE HE DOES PULL-UPS!
YEAHHHH BOIIIIII FLEX THOSE SHOULDER MUSCLES!
Other things to note from the trailer:
1. There are going to be masks involved. That seems very important.
2. Some guy named Miguel covered Beyoncé's "Crazy In Love" and made it sounds all creepy and ominous and abusive.
THIS IS NOT OK! AND IF I EVER MEET MIGUEL, I WILL GIVE HIM A PIECE OF MY MIND -- DON'T TOUCH ANYTHING QUEEN BEY HAS EVER DONE!
Anyway. Who's up for some dominant and submissive role play?
"Fifty Shades Darker" hits theaters February 10, 2017.