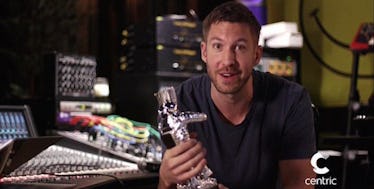 Calvin Harris Thanked Everyone In His VMAs Speech -- Except Taylor Swift
MTV
If there's one thing I learned from the VMAs Sunday night, it's that the bad blood between Taylor Swift and everyone is real.
Yup, I was one of the many people who thought MAYBE the drama over Kanye West's song "Famous" was just one big publicity stunt for MTV's Video Music Awards.
But nope, I was wrong. Celebrities really aren't a fan of Taylor Swift at the moment, which is why it's probably a good thing she decided to stay home. 
It isn't just the Kardashian fam who's on bad terms with the 1989 singer. Her ex-boyfriend Calvin Harris seems to be feuding with her as well.
After Taylor and Calvin broke up, the DJ went on an epic Twitter rant about his ex-girlfriend.
You see, Taylor actually co-wrote "This Is What You Came For" featuring Rihanna, so she decided to come forward and take credit for the lyrics.
DRAMA.
Anyway, Calvin's song won Best Male Video at the 2016 VMAs, and Calvin had a pre-recorded message for his fans since he wasn't able to make it to MSG to accept the award.
In his speech, Calvin thanked basically every single person who helped with the track except Taylor Swift. OUCH.
Calvin started off by apologizing for not being able to come because he had a show in the UK. He then thanked Rihanna, saying,
I need to thank Rihanna from the bottom of my heart. You're a superstar. Every time we worked together, you bring something so magical to the project so thank you.
Aww, that's cute. Now what about Taylor?
He also thanked the director of the video, Emil Nava, and "everybody who's supported this song, who's watched this video."
COOL. What about the person who CO-WROTE IT?!
In the end, there was absolutely zero mention of Taylor Swift.
Sorry, girl. Perhaps it's a good thing Calvin didn't shout you out. Just think about what a scene that would have caused...
Welp, if you happened to miss the VMAs, we've got you covered. Check out some of the highlights below.
Peace, love, VMAs. Next stop, Emmys. See you there!
Citations: Calvin Harris Taylor Swift VMAs (Daily Mail)