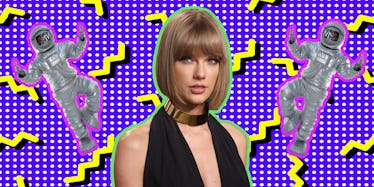 This Theory Proves Taylor Swift Will Be The Host Of The 2016 VMAs
REX/ Shutterstock
The past seven years of Taylor Swift's life have led her here, to a hosting gig at the 2016 MTV Video Music Awards.
If that seems anticlimactic, that's because it is. Unfortunately, I am not in the room when the Hollywood elite concoct their long-term conspiracy plots or, trust me, I would have spoken up about this festering wound of a celebrity saga from the start.
Leading up to this year's ceremony, the drama between Taylor and Kanye West has been reignited in a major way, and the timing is no coincidence.
The pair began what has become a Petty Bullshit Olympics of sorts back at the 2009 VMAs, when Taylor received the Best Female Video award for "You Belong With Me," a song championing the ultimate underdog: pretty, blonde millionaires who wear glasses sometimes.
Before Taylor could thank the fans, Kanye infamously stormed the stage, declaring "Yo, Taylor, I'm really happy for you and I'mma let you finish, but Beyoncé had one of the best videos of all time. One of the best videos of all time," in reference to Beyoncé's nominated hit "Single Ladies (Put a Ring on It)."
If she wasn't before, Taylor Swift was now officially famous.
Following the initial incident, Kanye publicly apologized, Taylor publicly forgave him, Kanye publicly apologized again in a tweet, Taylor publicly forgave him in a song she later sang at the 2010 VMAs and the world went up in flames, again.
Taylor's song "Innocent" was strikingly out of place on the apology/forgiveness carousel. While absolving Kanye appeared to be the song's goal, all it did was raise the stakes on the original interaction and double down on Taylor's wounded-yet-wise-baby-deer-with-a-heart-of-gold image.
THIS IS WHERE WE TAKE A BREAK TO ACKNOWLEDGE TAYLORCORP AS A SAVVY BUSINESS BEHEMOTH.
Why raise the stakes, effectively taking a fresh shot at your former opponent, intentionally?
After the song's release and Taylor's subsequent performance, Kanye cited Taylor's failure to come to his defense "in any interview," following the 2009 VMA broadcast. He suggested she instead "rode the wave and rode it and rode it," thus opening the feud floodgates right back up for eager public consumption.
HE'S IN.
Perhaps he was in from the moment he stormed the stage in 2009. Perhaps they both were. But Kanye's decision to respond to Taylor's re-ignition was a clear sign he was consciously ready to play the game.
Every now and then, the pair gave the tension they'd expertly built between them a small pluck.
Taylor hung a photo of the 2009 interruption above her fireplace, where it was seen during a 2012 interview with Rolling Stone and later mentioned in the profile.
In 2013, Kanye told the The New York Times he "[doesn't] have one regret" about the 2009 ceremony.
Shortly thereafter, the pair played nice for a few years.
Taylor enjoyed billboard success and toured monster stadiums for her Red and 1989 tours. Her relationships with Harry Styles and Calvin Harris pulled an outrageous amount of media attention and fan speculation.
Kanye experienced the same success, traveling the world for his Yeezus tour and releasing the much-anticipated The Life of Pablo. His wedding to Kim Kardashian was widely observed with the same level of national interest as the first moon landing.
For a moment, Taylor and Kanye stoked the flames of their fame with pregnancy announcements and the broken hearts of European boys rather than each other, all the while never fully leaving one another's spheres of public perception.
THEY'RE NOT FRIENDS, THEY'RE BEST FRIENDS.
In a 2015 radio interview, Kanye shared his interest to collaborate with Taylor. The same year, Taylor opened up to Vanity Fair about their hard-won friendship.
She presented him with the MTV Video Vanguard Award at the 2015 VMAs, calling herself a "fan of his for as long as I can remember" and things. had. never. been. chiller.
Everything was so chill. So, so chill and natural.
Kanye announced his plan to run for president come 2020, and Taylor offered to be his cool, chill Biden. Kanye sent Taylor some chill, cool, California-laid-back flowers, and Taylor posted them on Instagram, easily the chillest app in the world.
THIS PAGEANTRY IS SUFFOCATING, TBTH.
Just when their massive, glistening, cystic zit of a publicity friendship was ready to burst, Kanye premiered his single "Famous" off 2016's The Life of Pablo.
By his second line in the song, Kanye mentions Taylor, rapping,
I feel like me and Taylor might still have sex. Why? I made that bitch famous.
OoOoOOoOoOoooOoOoOoooohhhhhhhhHHHHhHhhhhH!
THIS ENDLESS SKIDMARK OF A FEUD IS BACK ON, DIVAS, WHETHER YOU ASKED FOR IT OR NOT.
Back in February, Kanye tweeted saying he'd received Taylor's explicit permission to use the line during an "hour long" phone call between the artists.
Tay Tay's friends and family revolted while she hung back and let tweets from supermodels and passive-aggressive Instagram videos from her brother handle her light work.
At this year's Grammy's, Taylor boldly took the stage dressed as the rich, sexy version of Angelica Pickles' Cynthia doll and accepted the award for Album of the Year. During her speech, she nestled an obvious dig at Kanye within the trojan horse of female empowerment because nothing is sacred in this town.
She told viewers,
As the first woman to win album of the year at the Grammys twice, I want to say to all the young women out there, there are going to be people along the way who will try to undercut your success or take credit for your accomplishments or your fame. If you just focus on the work, and you don't let those people sidetrack you, someday when you get where you're going, you'll look around and you will know that it was you and the people who love you who put you there, and that will be the greatest feeling in the world.
K. WE YOUNG WOMEN WILL KEEP THAT IN MIND, THANK Y — *Taylor walks through my body like a ghost and crosses to Kanye West. They stare deeply into each others' eyes while I wonder if I should go, or…*
Bored of whatever she had going on last month, Kim Kardashian jumped into the mix, telling GQ Taylor knew about the lyric all along. The reality star backed-up her husband's claim he phoned Taylor and suggested there was video evidence to prove it.
Taylor's reps called Kim's claim bogus and blah blah blah can't we do any better than this?
BUT WAIT — WE CAN.
In June, Kanye released the disturbing video for "Famous," featuring eerily accurate wax sculptures of many a controversial public figure laying nude, side-by-side in one enormous bed. On Kanye's right laid Taylor, exposed and uncanny.
Lena Dunham leapt to the defense of her pal Taylor on Facebook. Kim leapt to the defense of Kanye on an episode of "Keeping Up With the Kardashians."
In the episode, Kim claims Taylor had promised to admit her involvement in "Famous" on the Grammy red carpet, but instead opted to use the song as "just another way to play the victim."
Until this point, Kim's involvement in the charade had seemed, at times, a bit pointless. Like, we get it, you're here, too.
But the "KUWTK" episode gave Kimmy a chance to spread her hype man wings and maybe even earn an Emmy for Outstanding Lead Actress in a Drama Series.
At one point, when her mother Kris Jenner recommends Kim to call Taylor and sort it out, the 34-year-old responds,
Thank you for your lovely advice, but I'm not going to take it.
YES, KIM, THIS IS YOUR MONEY, TOO. STIR THAT SHIT.
Finally entrenched in the narrative, Kim posted a series of video clips on her Snapchat story last week proving, just as she and Kanye had promised, Taylor consented to the lyric ahead of its release.
Taylor clapped right back with a diatribe shared on Instagram in which she took issue with being called a "bitch" in the song without her consent.
Her defense wasn't built on the most solid of foundations, considering the line she'd agreed to — you know, the one referencing the sex debt she may one day fulfill with Kanye for advancing her career — was equally misogynistic, but consent is important in all areas of life, so let's back off.
Since this latest development, blogs, twitter feeds and actual human conversations have largely concerned themselves with where to lay the ultimate blame for this feud when, in reality, this feud does not exist.
The VMAs are, have always been and may forever be the lake house Taylor and Kanye visit when they need to reconnect and strengthen their bond as a pair of mutually symbiotic money making machines.
This year's ceremony airs on August 28, a full month from now. Further developments between the pair are sure to roll in over the upcoming weeks, stoking what began as a bag of dog shit lit aflame on a suburban stoop and has slowly grown into a gargantuan shit-and-paper rendering of the Burning Man effigy, getting all of us high off its pathogens.
TAYLOR SWIFT IS HOSTING THE 2016 MTV MUSIC VIDEO AWARDS.
This is just a theory, of course, but its one that could explain the magnitude of Tay and Ye's most recent public assaults on each others' character… you know, aside from money, fame and media domination.
Citations: A timeline of Taylor Swift and Kanye West's feud (Cosmopolitan), Taylor Swift and Kanye West's Rocky History: A Timeline (People)